Sometimes all you need is a little inspiration to come up with the perfect idea for your backyard or indoor pool. Here are some of my favorite swimming pool designs we've compiled over the years. I sorted everything by concepts and features to hopefully make it a little more scannable, unlike all the generic (and frankly overwhelming) "top 50" pool design articles out there. Anyways, let's get started! Feel free to use my handy table of contents below to jump down to a section that piques your interest.
---
Freeform Pools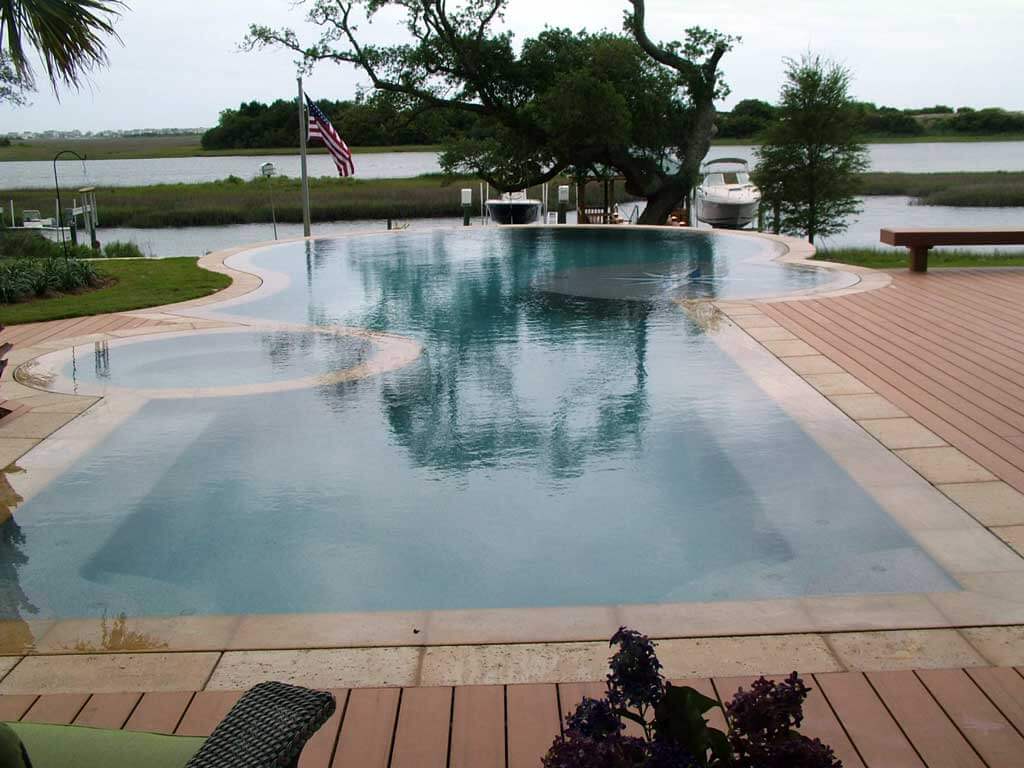 That is pretty much the definition of freeform pool design right here. A wonderful design that overlooks a beautiful view of the channel. This pool also has excellent coping around the perimeter with a draining system and design that allows the pool to be filled to the brim, giving the overflow look.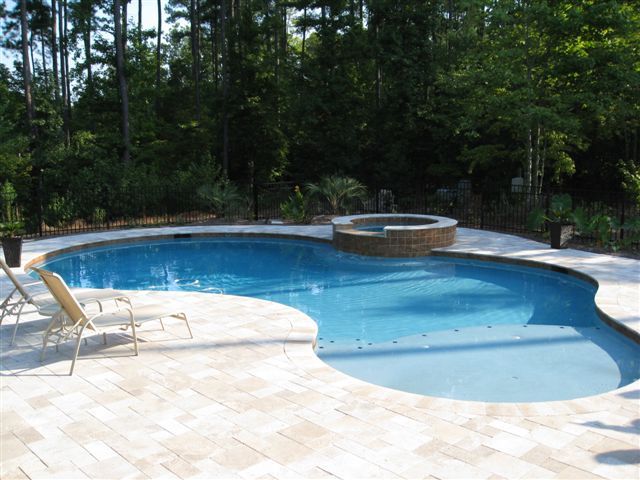 Lots of curves in this smaller residential pool I built a few years ago. The small waterfall and separate spa area help create many individual hangout spaces that make the pool area seem bigger than it actually is.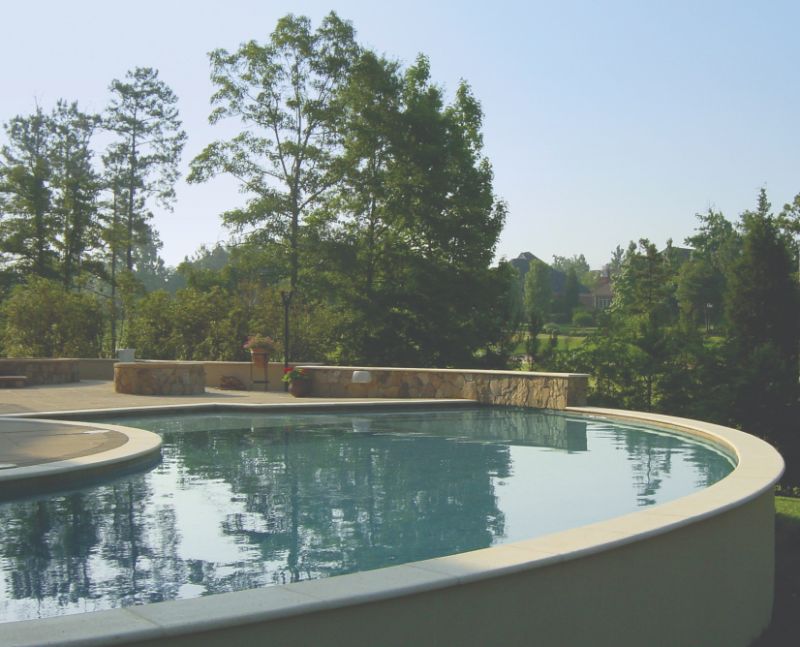 I built this freeform pool accented with a lot of natural stone and elegant stone bullnose coping.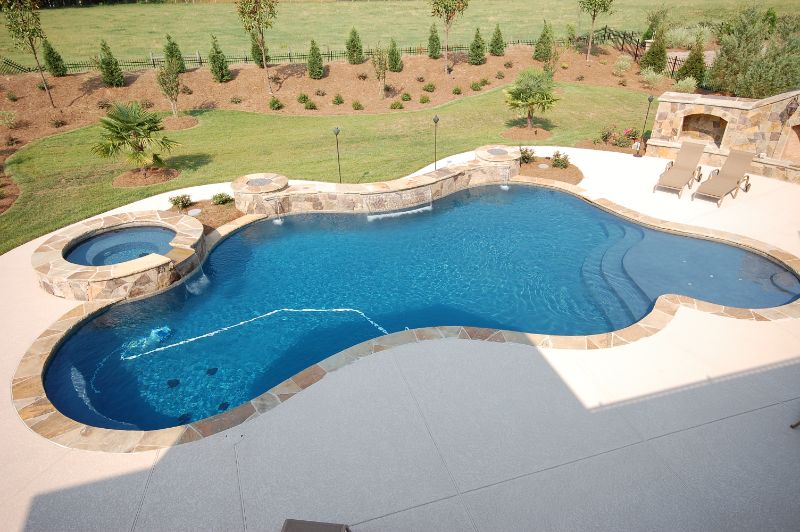 I love this freeform pool I built for a client. It features a spa at one end, a tanning ledge on the other, and a scupper in the middle of a natural stone wall.
---
Infinity Pools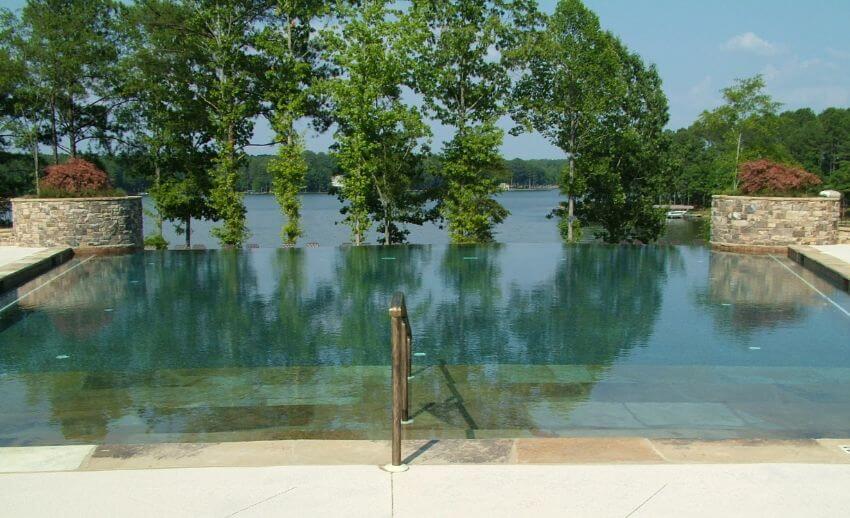 A great infinity edge pool overlooking the lake in Reynolds, Georgia. The water flows into a lower pool where folks can also hang out and take in the beautiful views. This pool also has a great beach entry. Please take a look at my infinity pool design guide for more inspiration.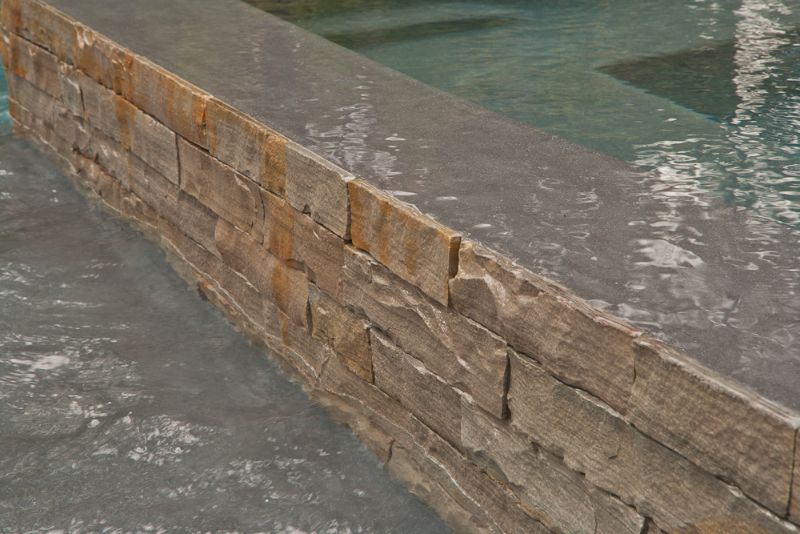 This smaller infinity edge dives into a lower pool. The water wall is lined with natural stone pieces that I hand-selected for a rugged and natural finish. In the background, you can see some bench seating as well.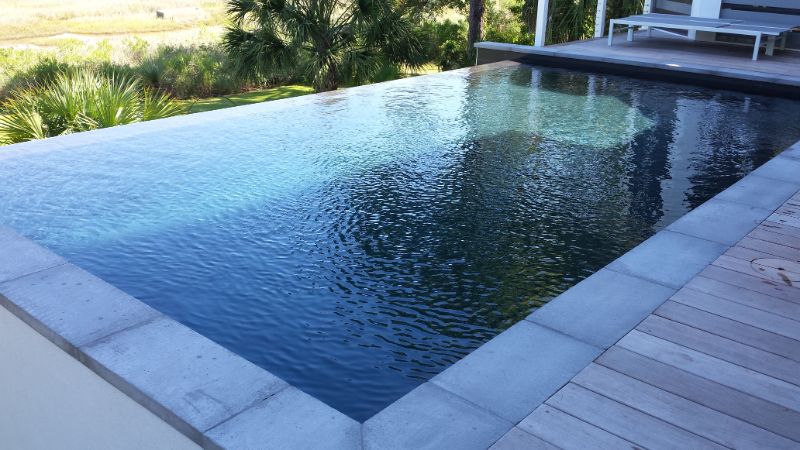 This is a very fun swimming pool I built that has an infinity edge, natural stone coping, and a wooden deck overlooking the river.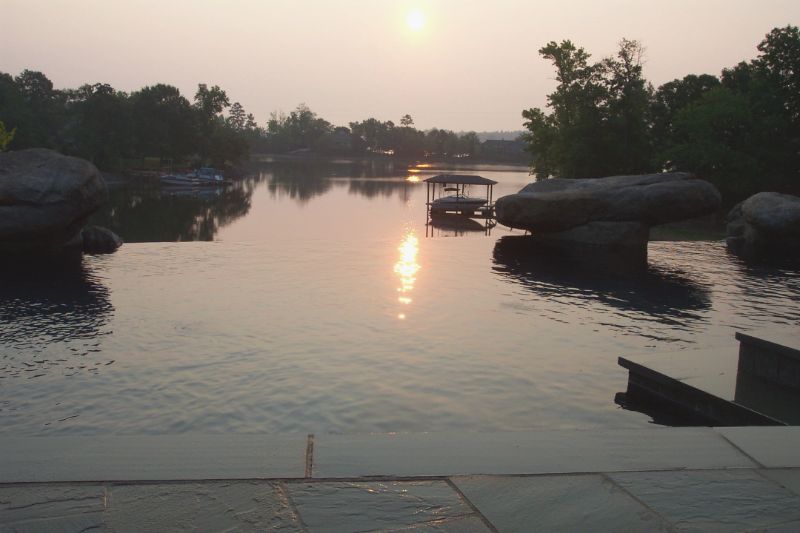 This is my classic black pool color. In the evenings, this infinity pool blends perfectly with the lake.
---
Garden-Inspired Backyard Pools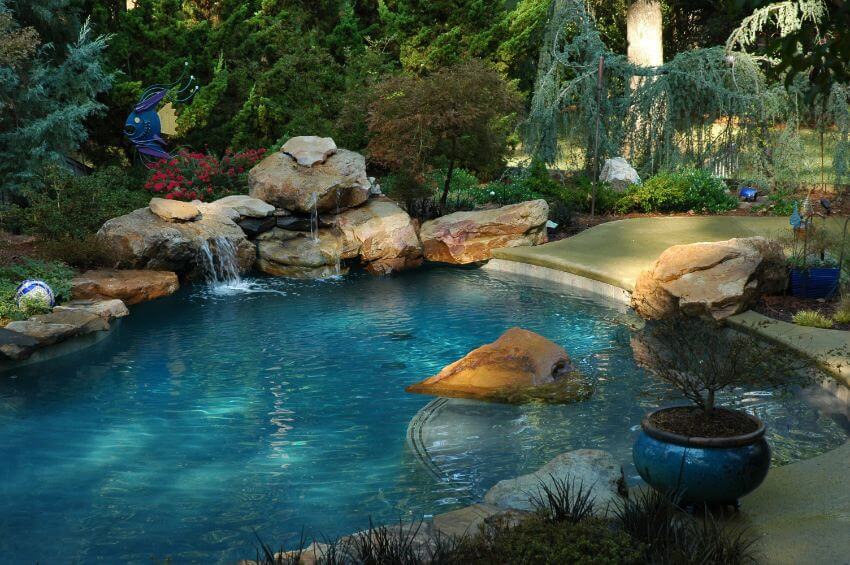 The custom stonework and landscape design around this pool blend well into the surrounding environment. The trickle of the waterfall also provides a calming sound that drowns out everyday distractions as you're relaxing. Garden pools are one of my favorite design approaches; check out my complete design guide for more garden pool design ideas.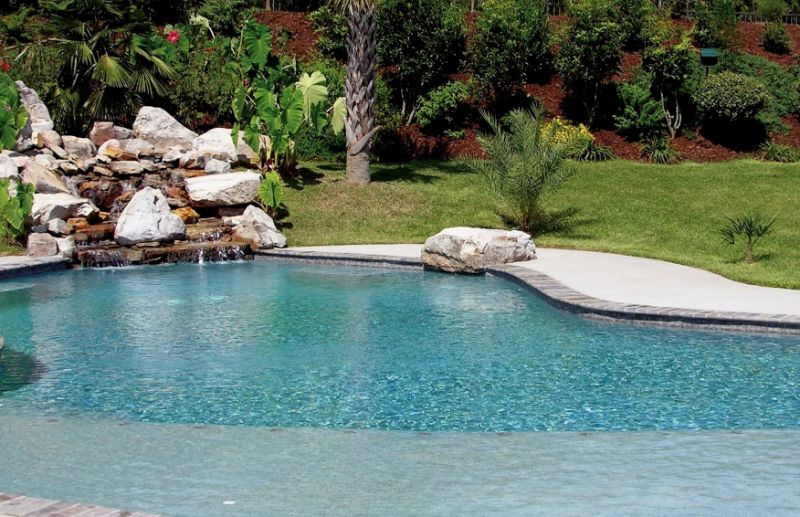 I love this tropical garden-inspired pool I built a few years ago. The natural rock waterfall in front of the greenery paints a beautiful scene.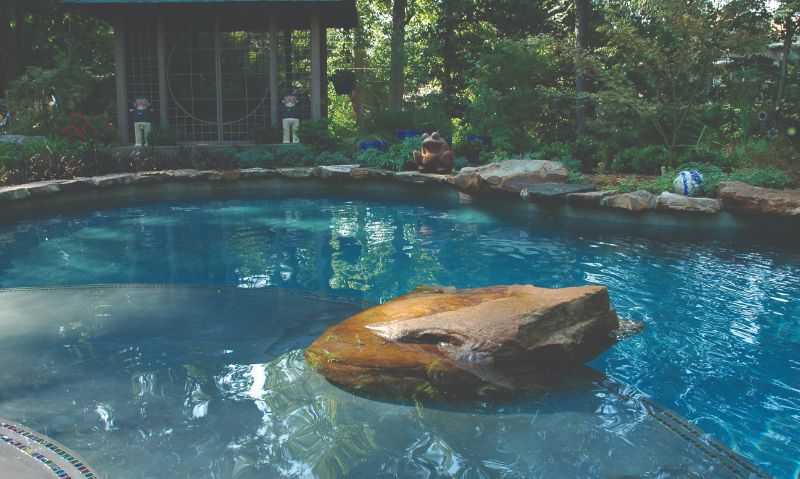 Here's another garden-inspired swimming pool I built. I love the natural stone in the middle of the pool and the lush greenery around the edges.
---
Plunge Pools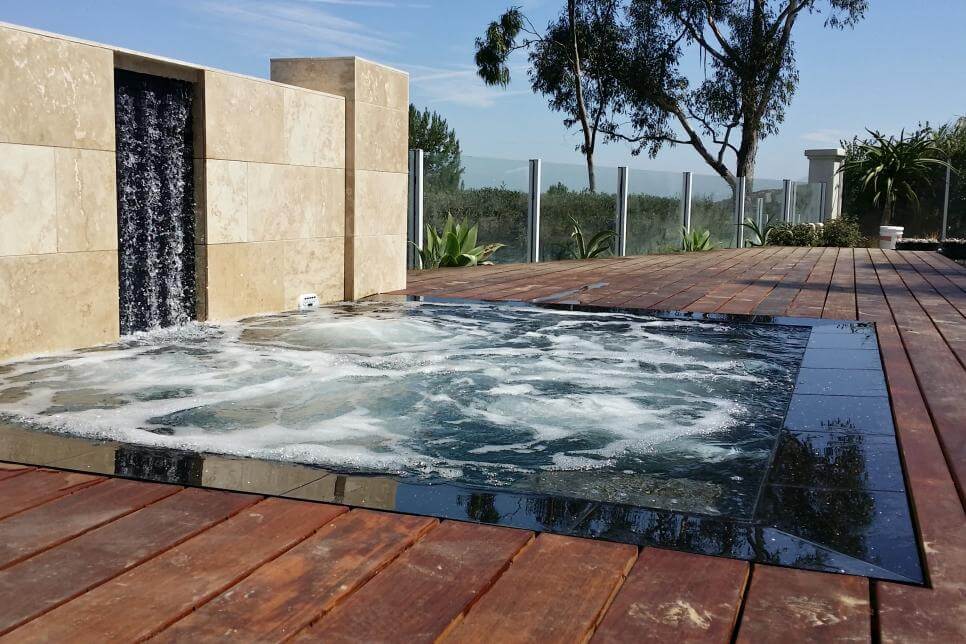 This plunge pool spa is surrounded by wood decking that is perfect for entertaining. The jets and heating system in the pool also make this design a viable option to use in the colder months. I really like the waterfall that trickles in and provides some privacy. The glass fence also doesn't obstruct your view of the surrounding landscape. For more on fence options, check out my guide on pool fence design.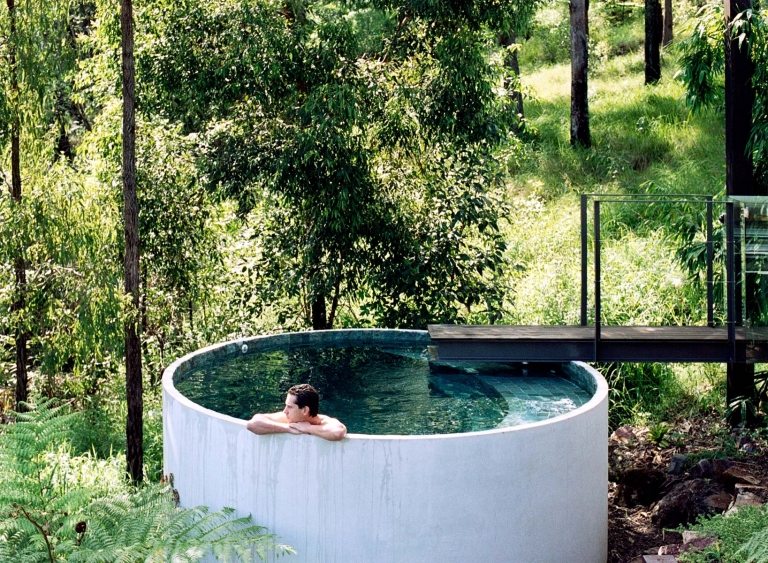 The above ground plunge pool design is also a popular option. This design really separates the pool from the house, giving it a bit of a "getaway" feel. The walkway spilling into the pool area is a great touch as well.
For more inspiration, read my full article on plunge pool design ideas.
---
Grottos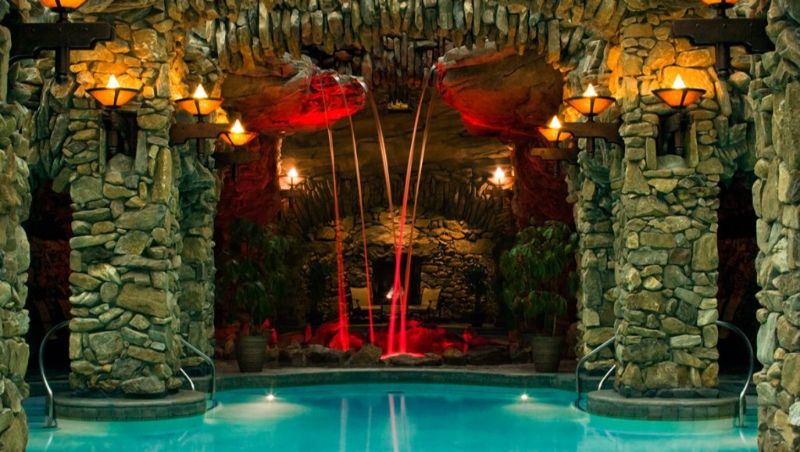 This is the underground spa grotto that I helped build at the Grove Park Inn, located in the mountains of North Carolina. It doesn't get much better than this.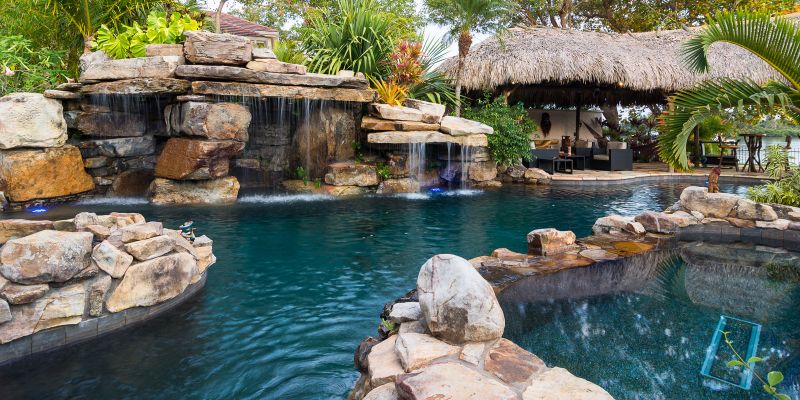 This design by the famous Lucas Lagoons group has a lot going on. The grotto and waterfall provide a great area to relax, and the use of natural stone gives it a natural feel. Check out my lagoon pool design ideas article for more inspiration like this pool.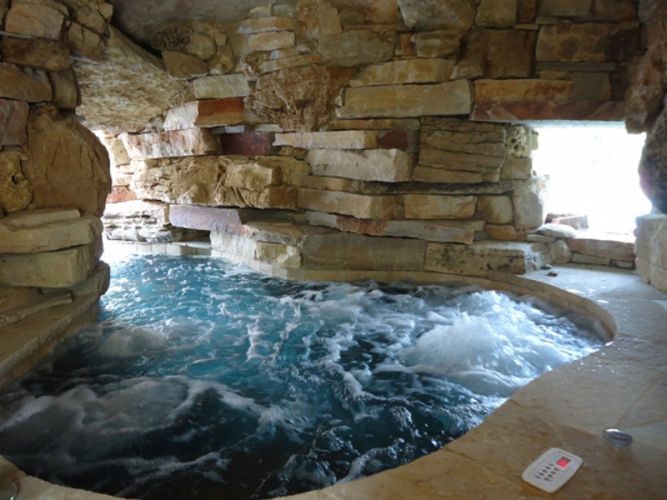 This designer decided to put the spa inside the grotto, providing a great relaxing private area. The stonework here is also well done and a mix of a couple of different styles.
Considering a grotto? Check out my complete grotto design guide.
---
Olympic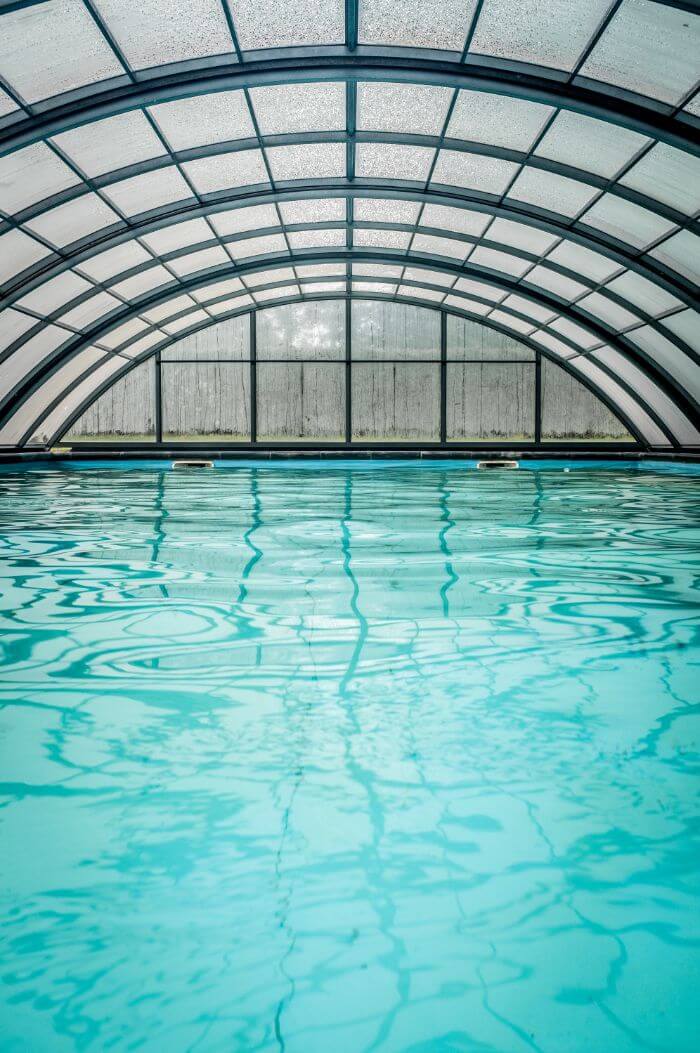 The Olympic pool is a classic lap pool design that you typically only see in commercial pool builds, not much in residential ones. I like the dome cover on this indoor Olympic pool.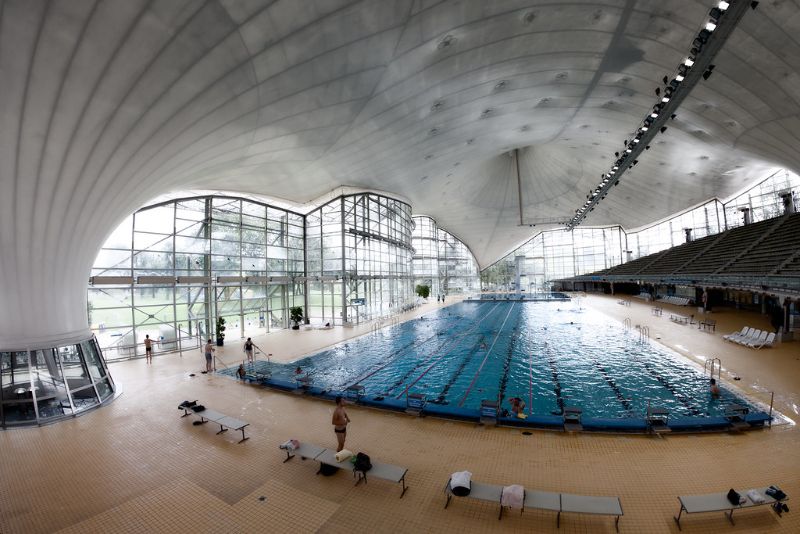 This Olympic pool in Munich has quite a unique ceiling design that dives into a hot tub/spa area for cooldowns. An exciting concept that has inspired a few other large builds over the years.
---
Indoor Pools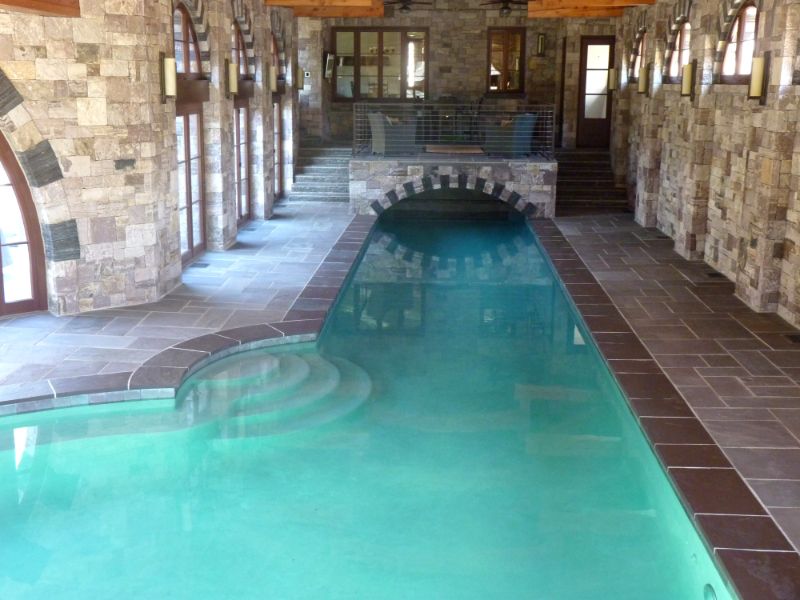 This indoor pool I built is enclosed and private, with minimal outdoor light getting into the area. You walk up a small flight of stairs to access the house.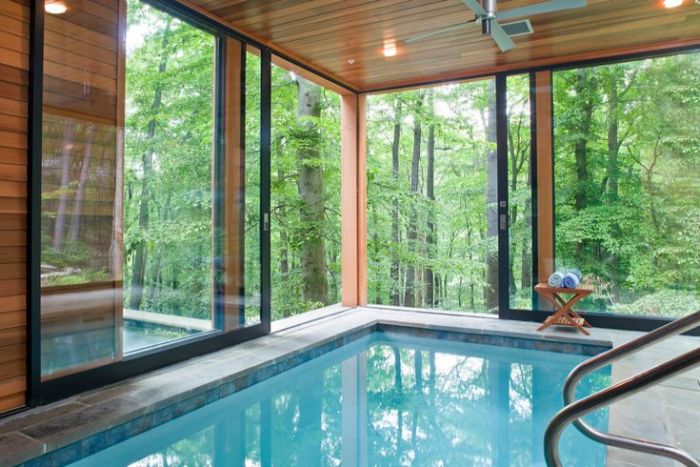 This indoor pool is so simple yet elegant. The sliding doors that open towards the forest brighten and enlarge the space.
For more ideas, please browse through my full article on indoor pool designs.
---
Natural Pools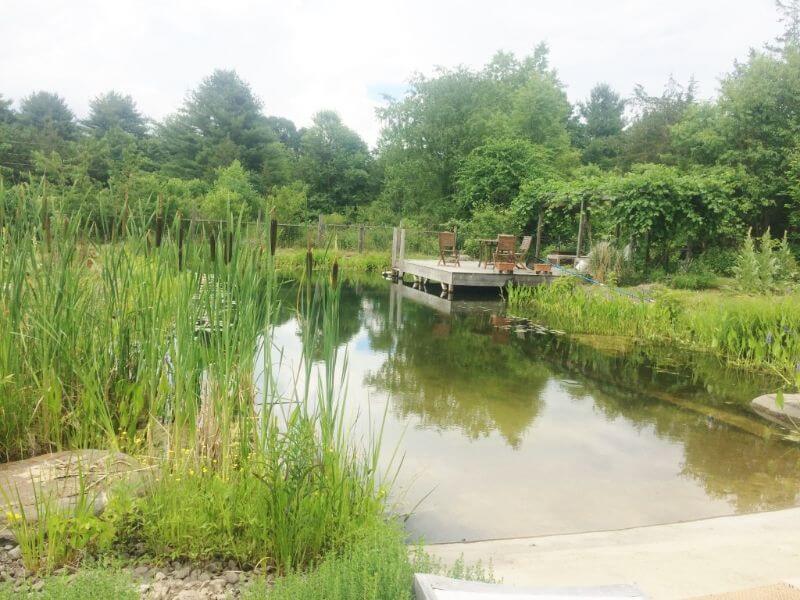 This natural pool has so much going for it. A walk-in entrance, high grass on either side for privacy, and a great wooden deck towards the back that connects to the yard for a beautiful entertaining space.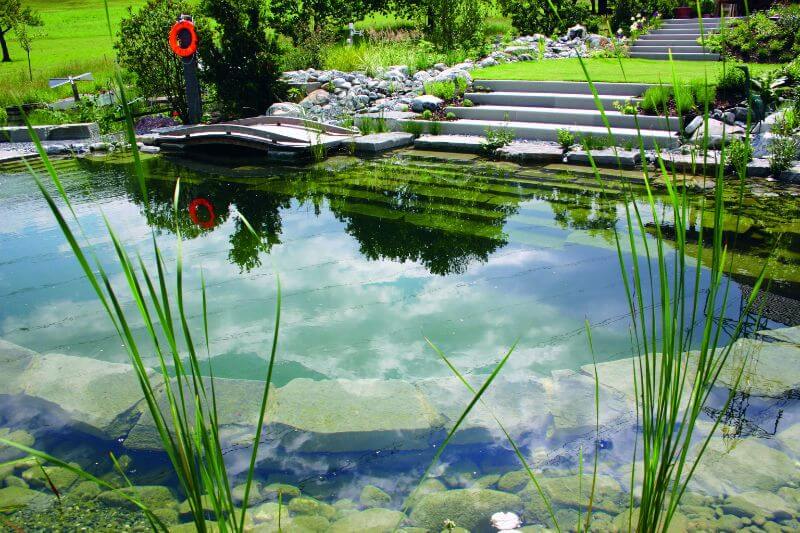 The terraced design of this natural pool looks like a beautiful and seamless addition to the overall outdoor space. The small footbridge from one area of the backyard to the other is also a nice touch.
Check out all of my natural pool design ideas for more inspiration.
---
Rooftop Pools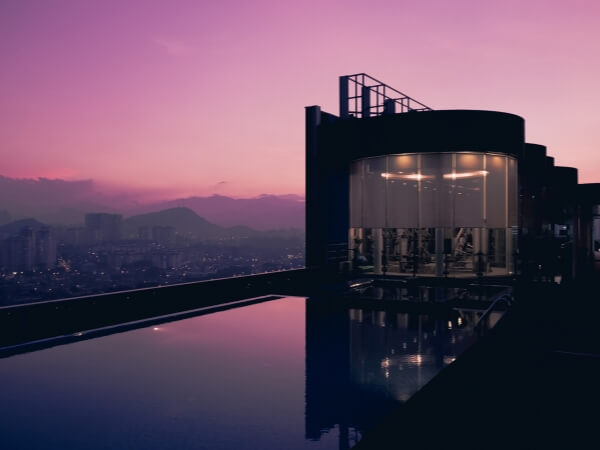 This rooftop pool has a glass wall, an infinity edge, and a fantastic view of the city skyline.
Head to my entire article on rooftop pool design for more inspiration.
---
Other Unique Pool Designs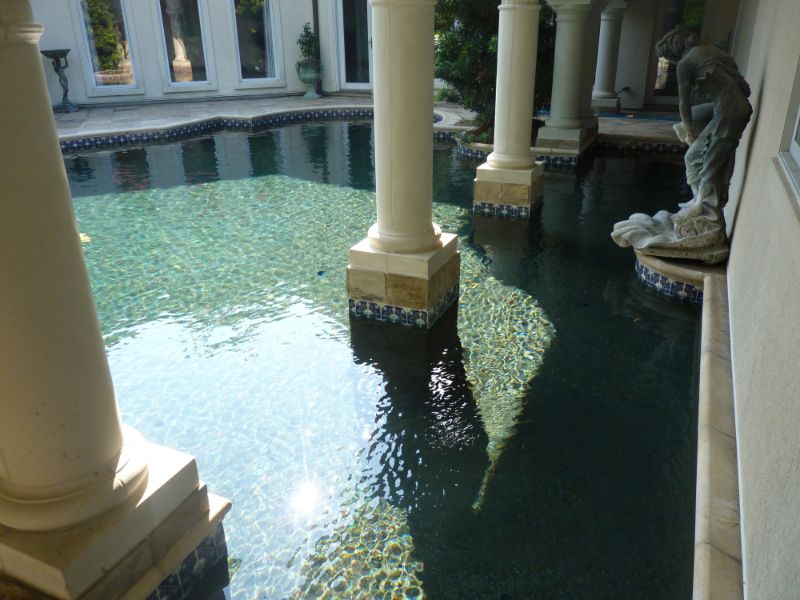 I built this swimming pool several years ago that has a Roman-style to it with columns in the middle, a statue, and classic tile work.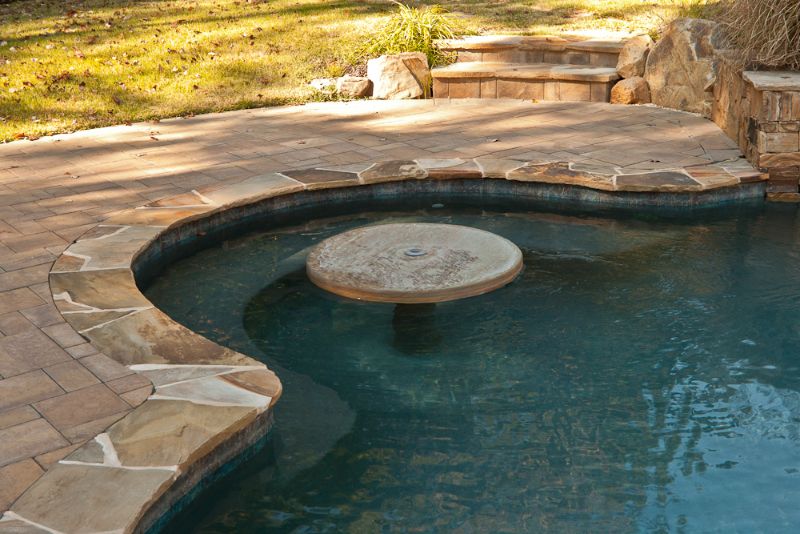 Here is a lounge area I built into a swimming pool with a custom concrete table and bench seating.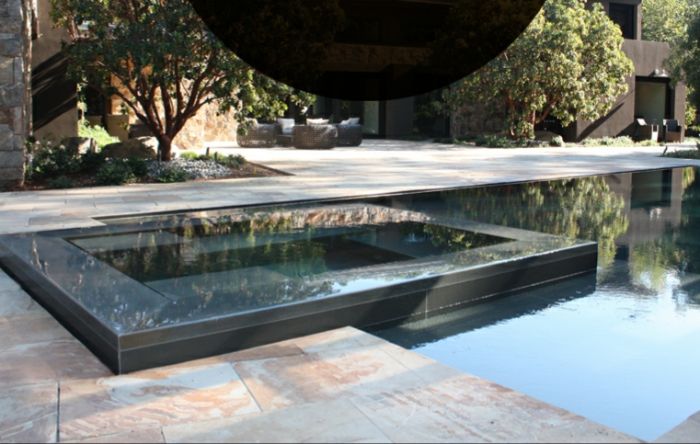 I love incorporating a spillover feature around the entire spa area of a swimming pool, like this one I built.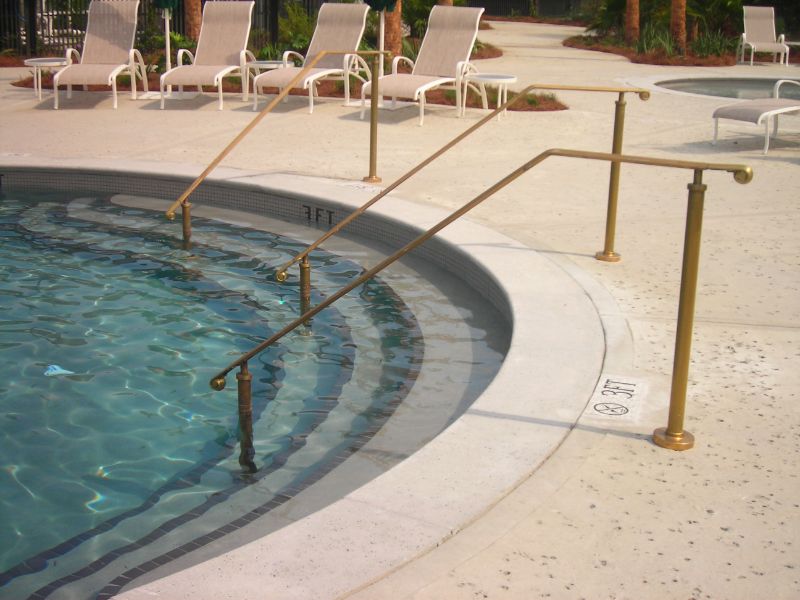 The custom handrails in this swimming pool are a standout feature. I built this pool for a commercial client.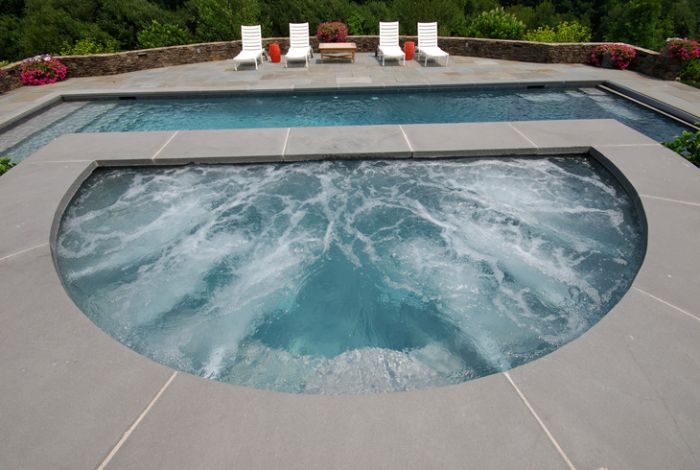 Here's an elevated spa in a pool I recently built. This design is a bit different than what you typically see with main pool and spa pool designs.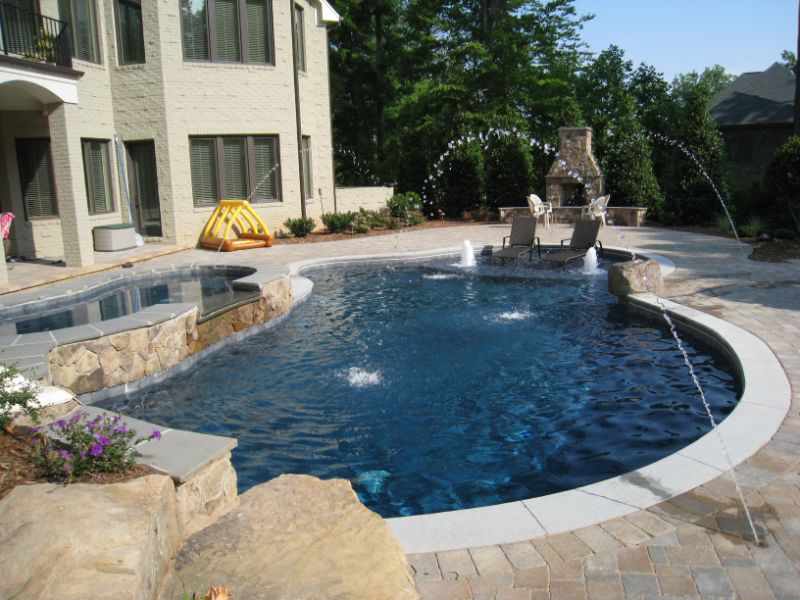 This swimming pool I built has a lot going on. Deck jets, bubblers, spa, shallow lounge shelf, natural stonework…but it all fits well together.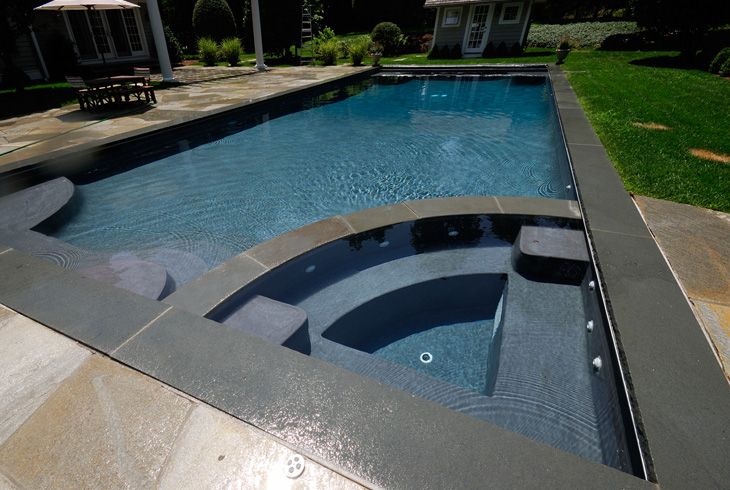 Here's a pool color I like to call "classic grey." I built the corner spa to be very open to the rest of the backyard.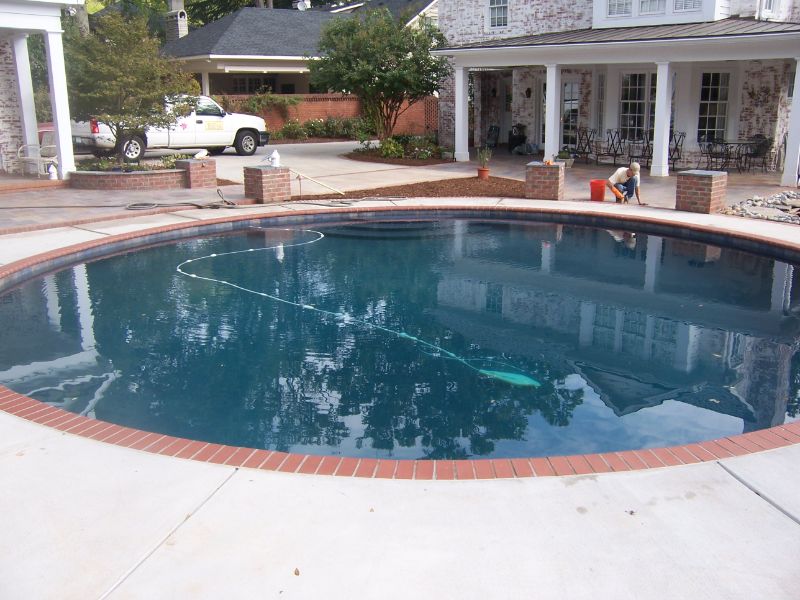 Brick pool coping isn't my favorite, but I think this design blends in well with the overall aesthetic of the home. This is a photo of a pool I built for one of my old neighbors.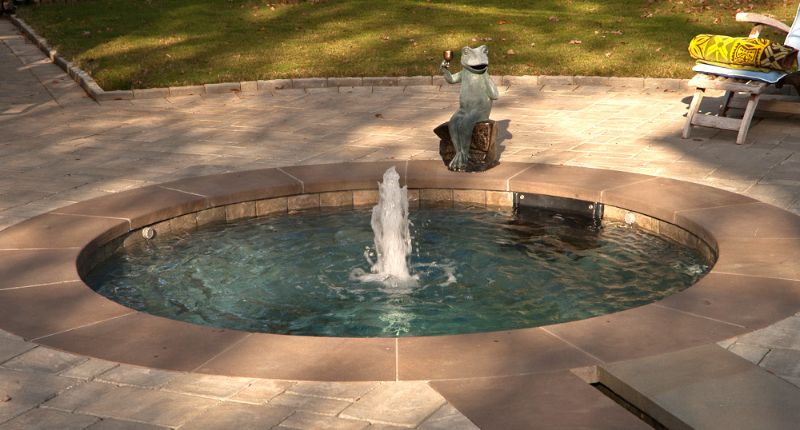 I love the bubbler in the middle of this small pool I built. The frog statue is a quirky touch, too.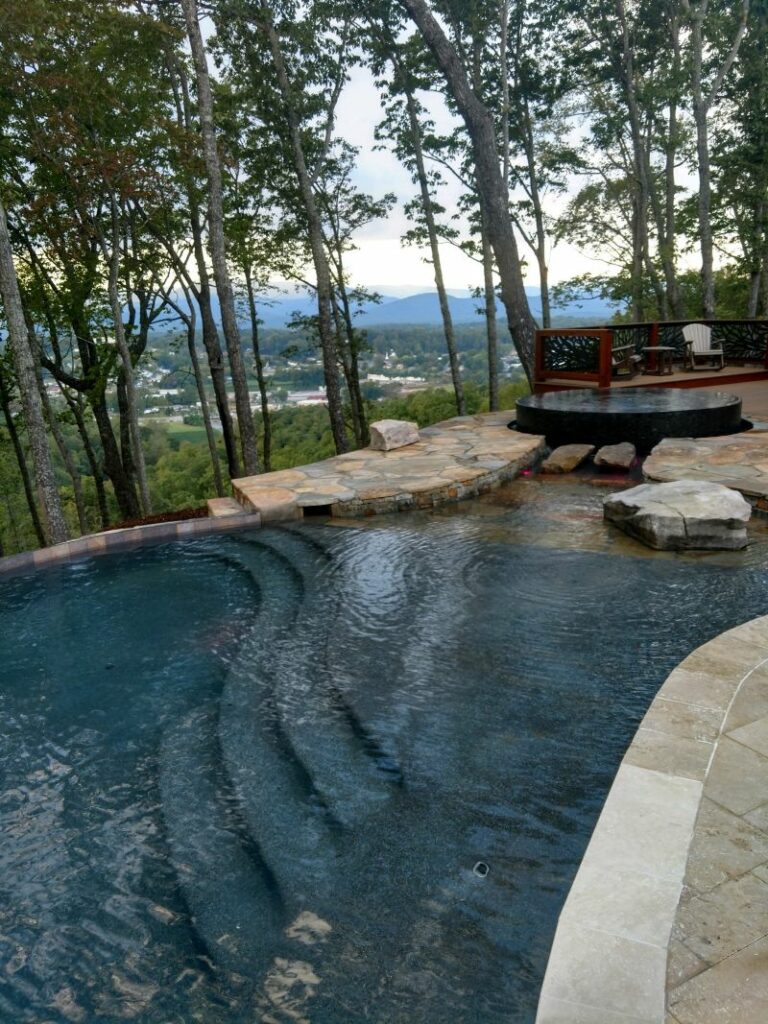 Here's an infinity spa I built for a customer who lives in the mountains. A beautiful view and a lot of natural stonework too.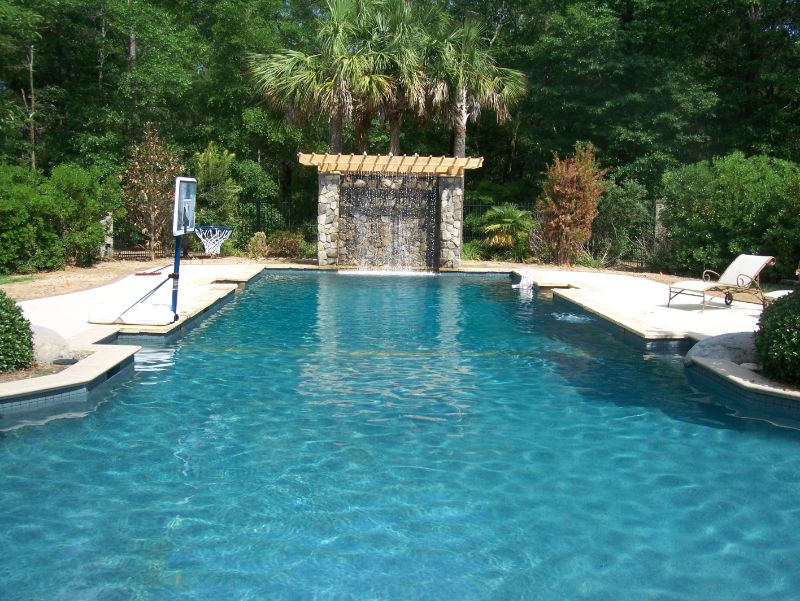 Here is a photo of a family pool I created with a waterfall surrounded by natural stone.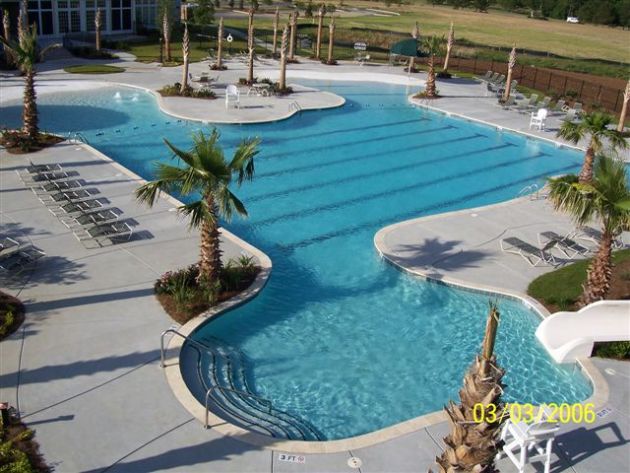 If you're looking to build a large swimming pool for a hotel or resort, here is a freeform commercial pool I built back in 2006 that I love.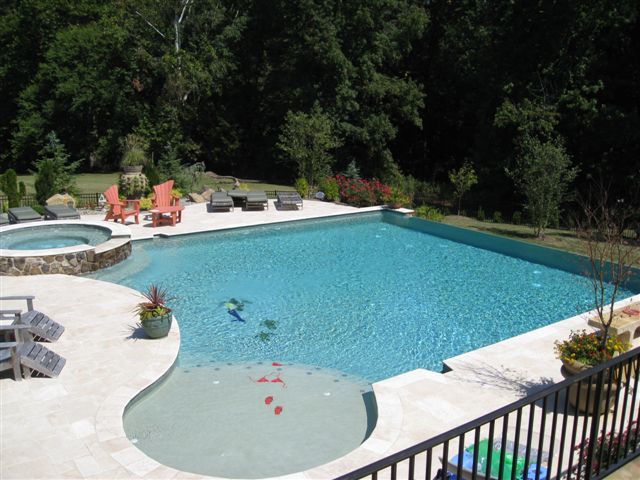 Here's a unique take on a freeform pool – it's almost entirely shaped like a square, but juts out by the spa and the shallow ledge on the left side. I really enjoyed building this one.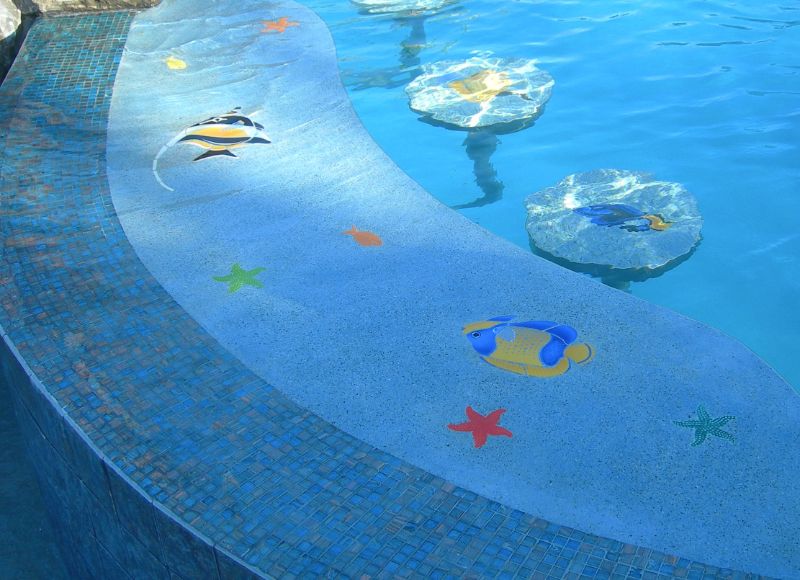 The fish mosaic and tile give this pool a cool tropical feel. This pool was a custom install I did several years ago.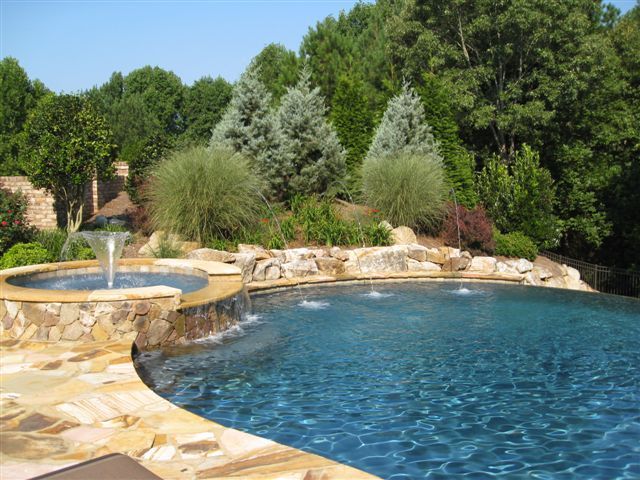 The fountain and spillover in the spa area of this pool were fun to build.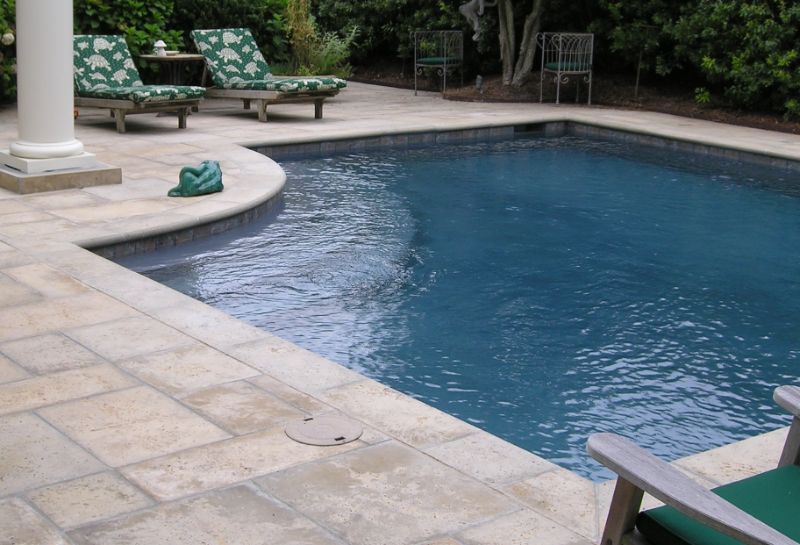 The stone deck and color palette of this entire pool area evokes a classic Southern style.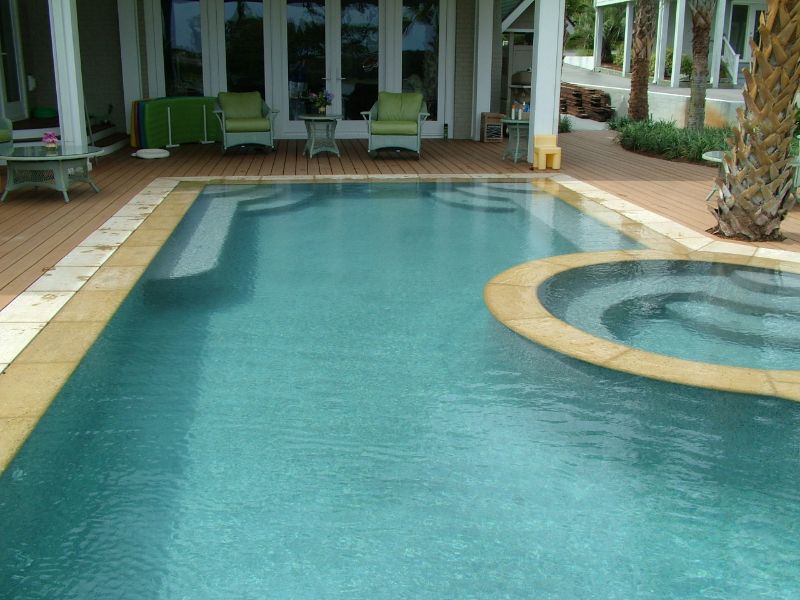 Here is one of my projects that incorporated lots of steps and bench seating, and a waterline that is flush with the deck.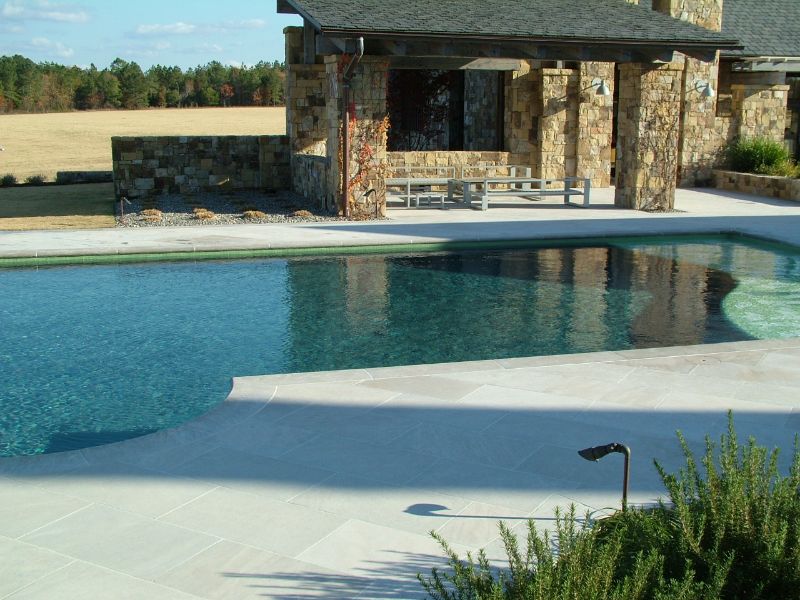 This pool was exciting to build. The stonework around it is very elegant.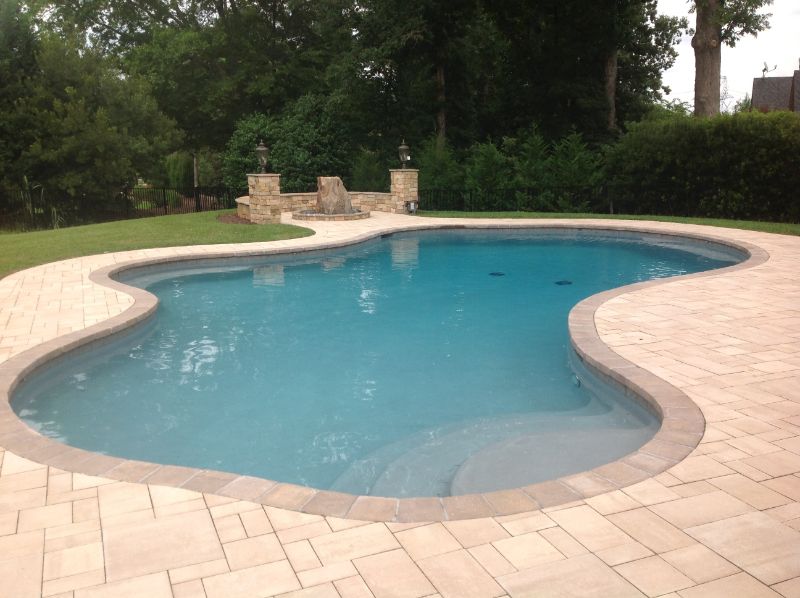 The edges of this swimming pool are very free-flowing. The customer also asked for a unique rock structure next to the pool, which I also built for them.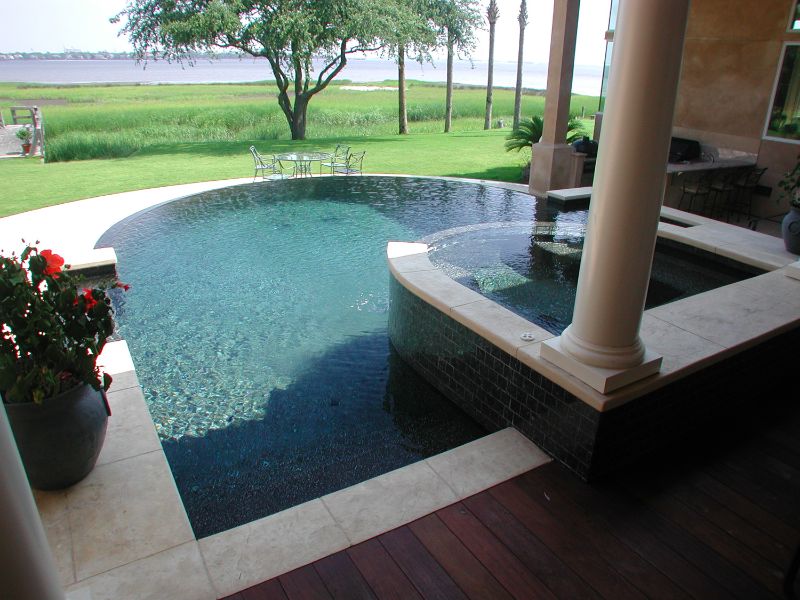 Here's one of my half-moon pool projects for a customer on the coast of the Carolinas.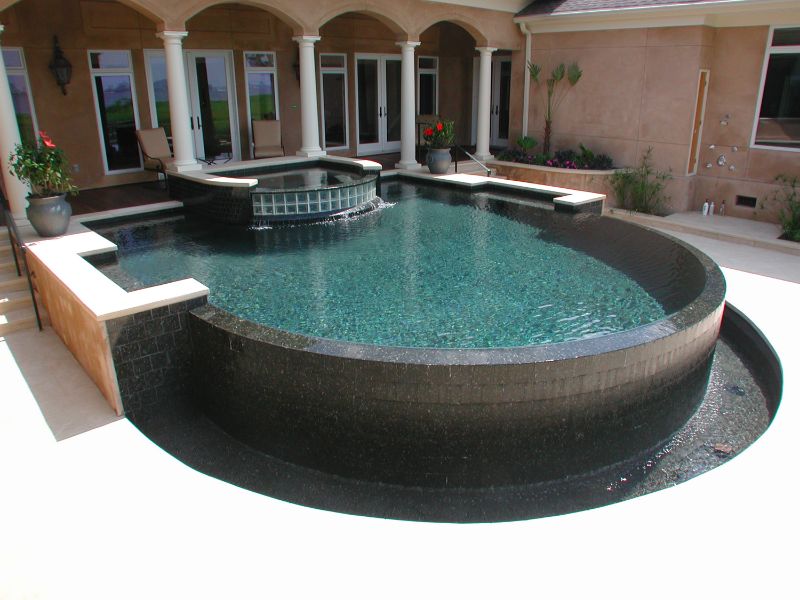 Here's another one of my half-moon pool projects with a spa and infinity wall.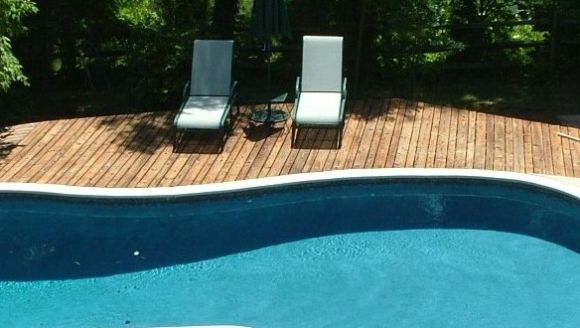 I loved shaping the subtle edges of this pool. The trees right next to the deck offer nice privacy as well.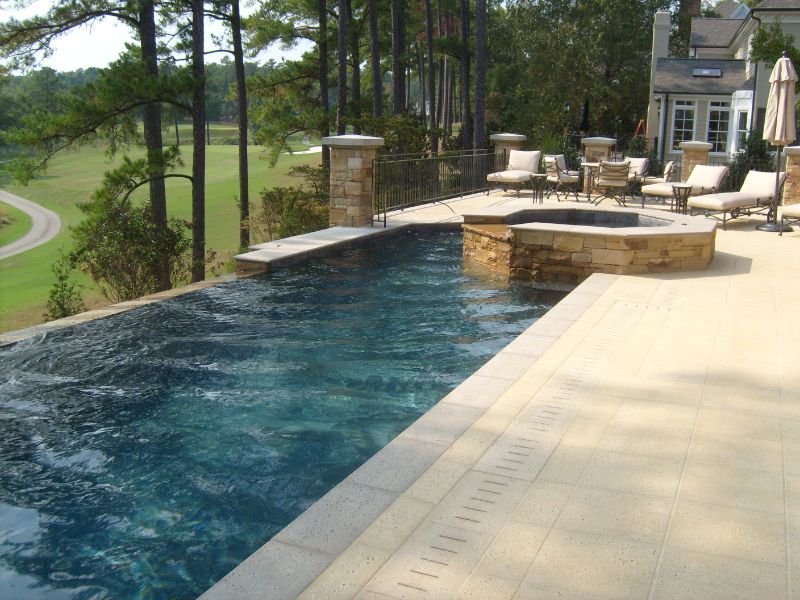 Here's another infinity pool I built that overlooks a golf course.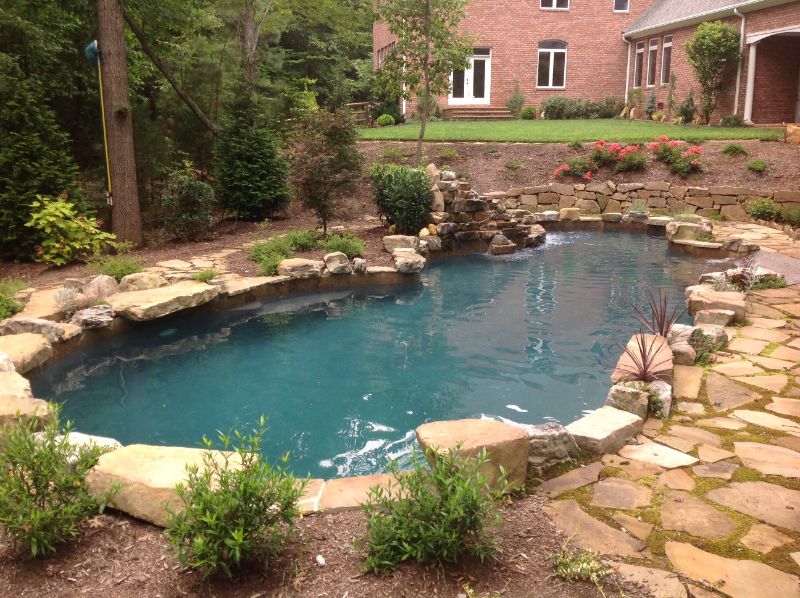 Here's another one of my garden-inspired pool projects with a lot of new landscaping. Once this greenery has a chance to grow, it will be a magical backyard space.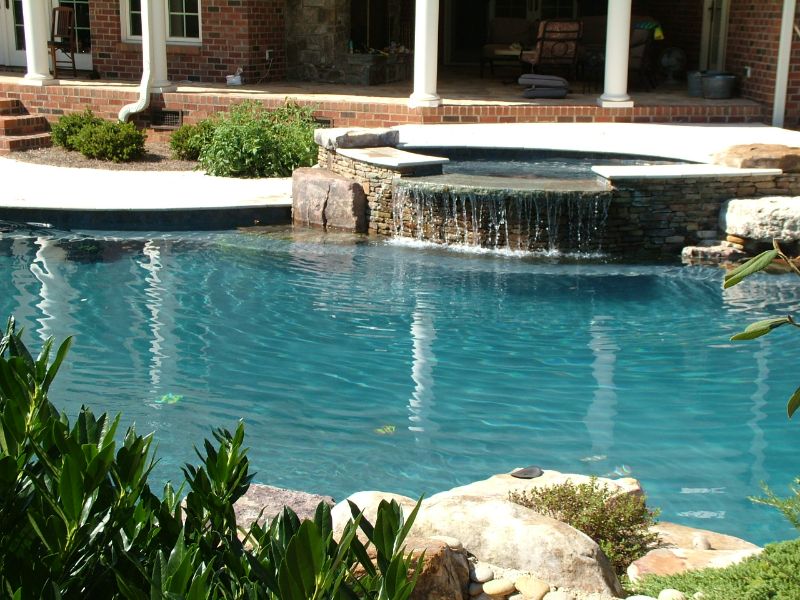 I combined a lot of stone sizes in this project to create a unique look for the swimming pool and spa.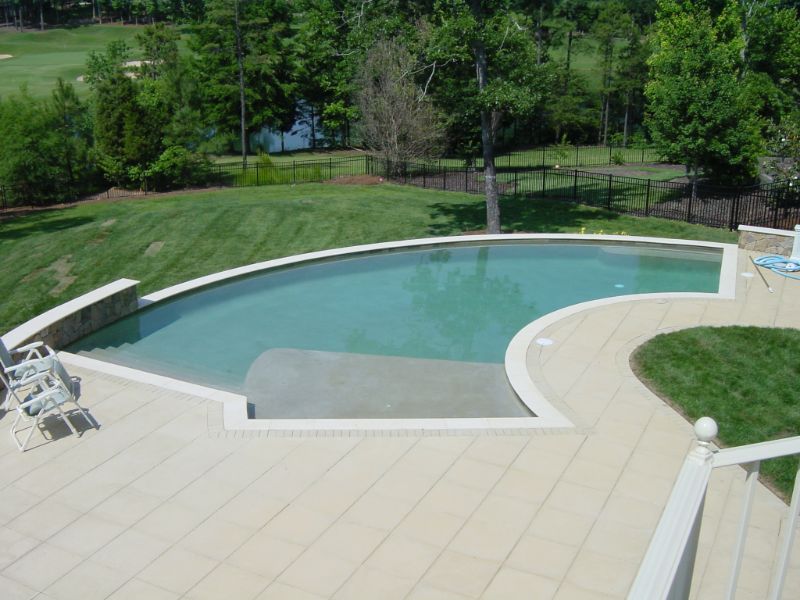 I had to build this pool elevated with the home, and it blends in well with the shape of the deck.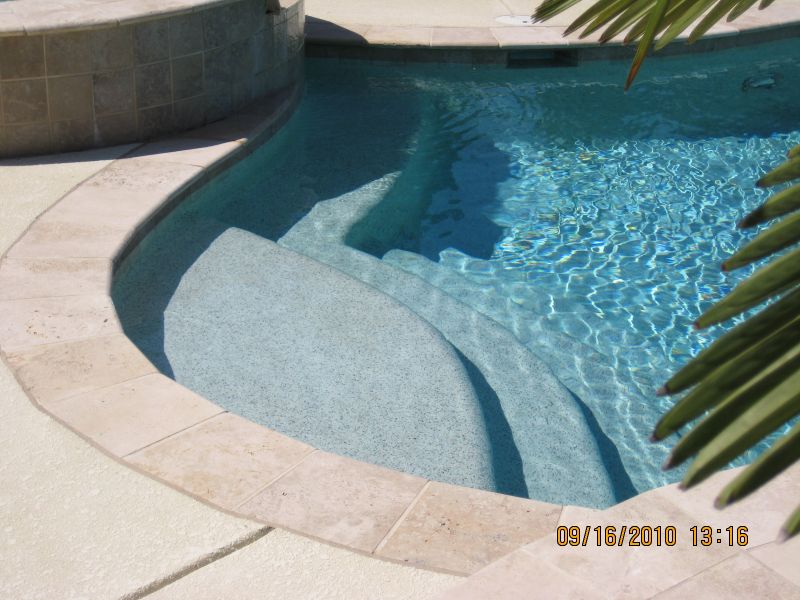 I love the detail on the pool stairs and coping design on this project from 2010.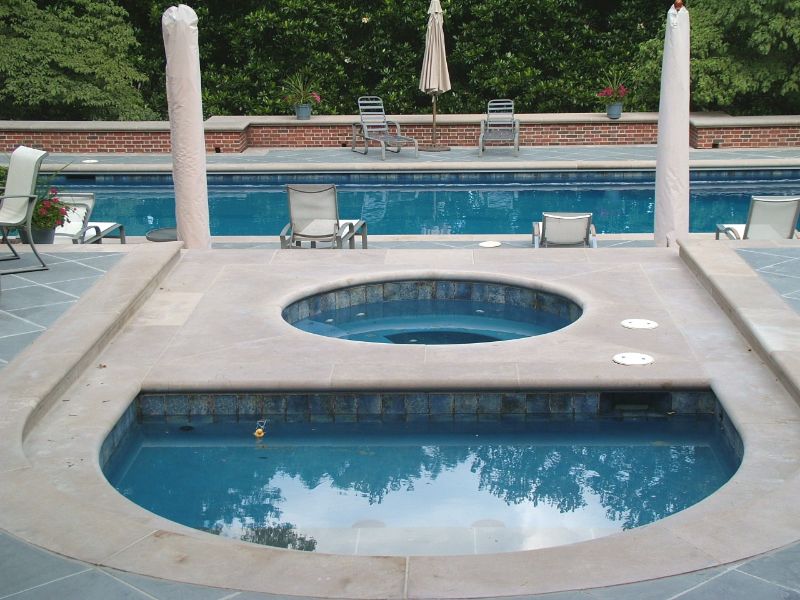 The many layers of this swimming pool were really fun to design. The spas are separated and elevated from the main pool, which can make it feel like an entirely different experience.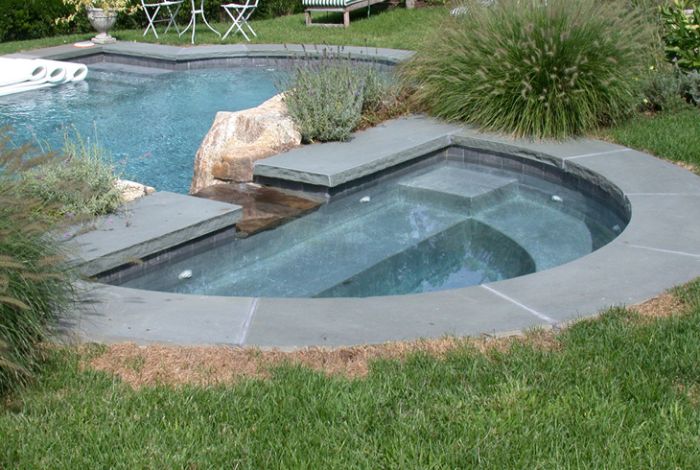 I love the contrast of the dark-colored pool with the green grass and landscaping around it. My customer had a great vision for this pool design.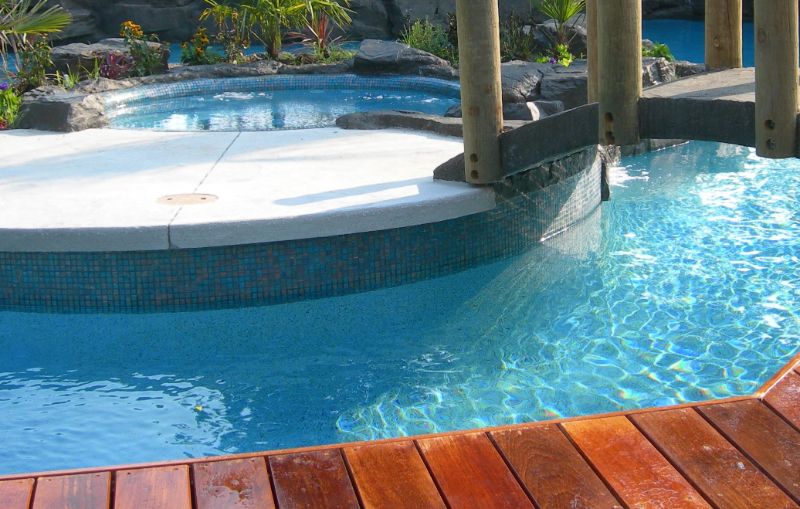 Bridges to connect different pool areas are also a popular design feature. This photo is from one of my jobs several years ago.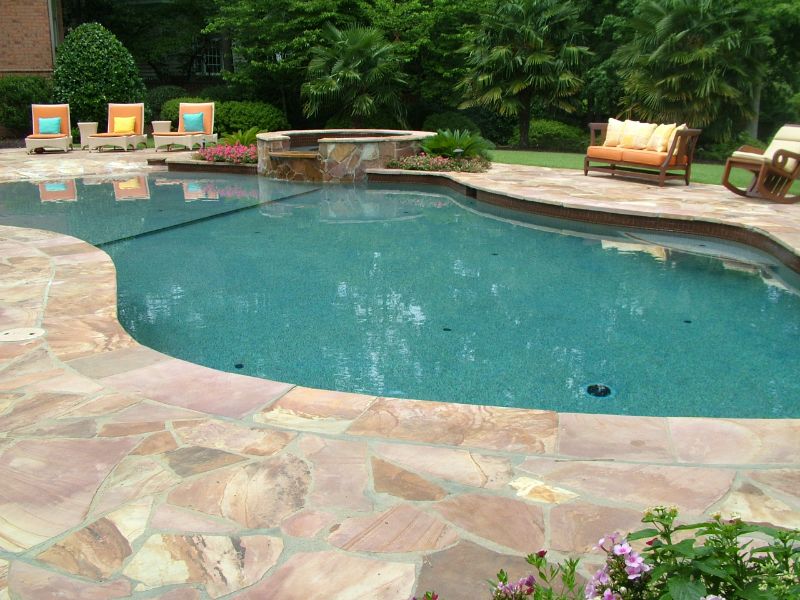 You can also have a little pink in your stone pool deck, like I have here.
---
Get My Free Pool Planning Checklist
Download my free, printable pool planning checklist to guide you through the entire design and installation process.
Other Pool Ideas?
There you have it. Did I miss any concepts or types of pools you were looking for? Let me know! Be sure to check out my favorite water feature inspiration, swimming pool renovation ideas, and popular pool shapes articles as well. Ultimately your pool design is entirely up to your personal preferences. Just remember to consider the surrounding landscape and environment you're putting it in. If you relay the concepts you want to your pool builder, they should be able to come up with something special.
Good luck in your search, and shoot me a note if I can help with anything.