Waterfalls are a great feature addition to any swimming pool and come in various sizes and styles. Below, I'll walk through the main pros and cons of having a waterfall in your pool design, the types of waterfalls you can install, give you some design inspiration, and offer some advice on how to get started if you want to have a waterfall feature in your next swimming pool.
Main Benefits
Outside of the apparent ambiance, there are several benefits of having a waterfall feature in your pool.
Water Circulation
Waterfalls help keep water moving throughout your pool, which helps keep your water clean. Working in tandem with your pool pump, the additional airflow and circulation help evenly distribute chemicals throughout your swimming pool and move water through your filtration system.
Temperature Regulation
Waterfalls are almost necessary in your pool if you live in an especially hot climate. The constantly moving water introduces more oxygen which helps cool down the average water temperature in your pool, helping you stay relaxed in the baking hot sun.
Sound Blocking
The calming rush of water flowing through your waterfall is a natural noise barrier to other sounds around you. Whether your neighbors are too loud on the weekends, you live near a busy street, or you simply want some privacy from potential eavesdroppers, a waterfall can help drown out the noise and create a calming environment.
Aesthetics
Waterfalls are simply beautiful structures when built appropriately. The variety in design concepts, materials you can use, and where you place the waterfall in your pool structure are nearly endless. A good waterfall can help your pool stand out among everyone else. Personally, I'm a fan of using natural stone to construct waterfalls – it blends in with the surrounding landscape very well.
Watch Outs
Here are some of the potential drawbacks of waterfalls that you'll want to keep in mind.
Additional Maintenance
As with any additional water features you add to your pool, a waterfall adds more maintenance tasks to your regular to-do list. If you are using stone, calcium and mineral deposits can build up at the base of the rocks that you'll want to clean out regularly. Watch out for the chemical erosion of stones as well.
Installation Cost
Waterfalls obviously add additional cost to your initial pool design and installation. Depending on the materials you use and design complexity, adding a waterfall could cost you anywhere from $2,000 to $20,000 on top of the cost for the rest of the pool.
Okay, let's get into some design concepts.
Pool Waterfall Design Ideas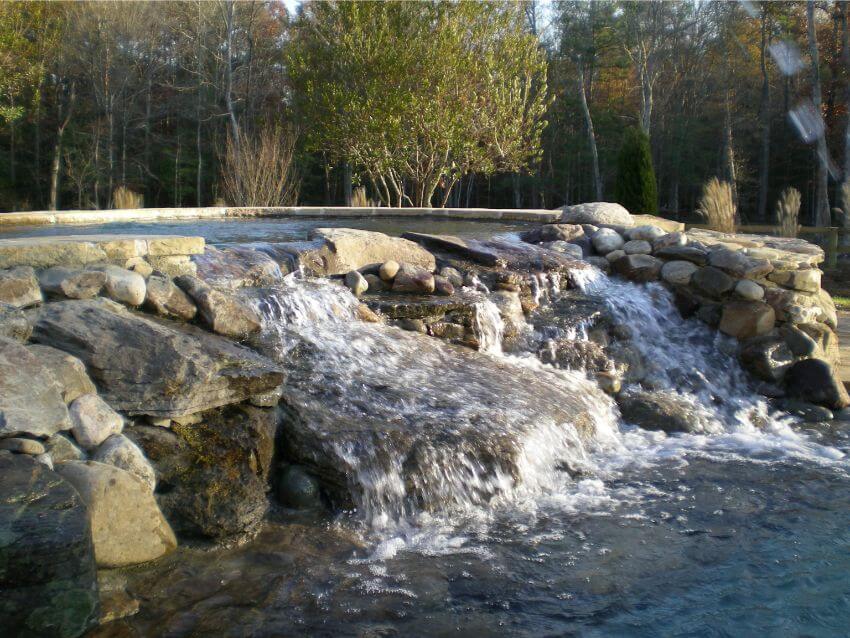 This is a pool I built a few years ago. I love the natural stone that leads from the spa area to the central portion of the pool. It blends really well with the surrounding pool landscaping.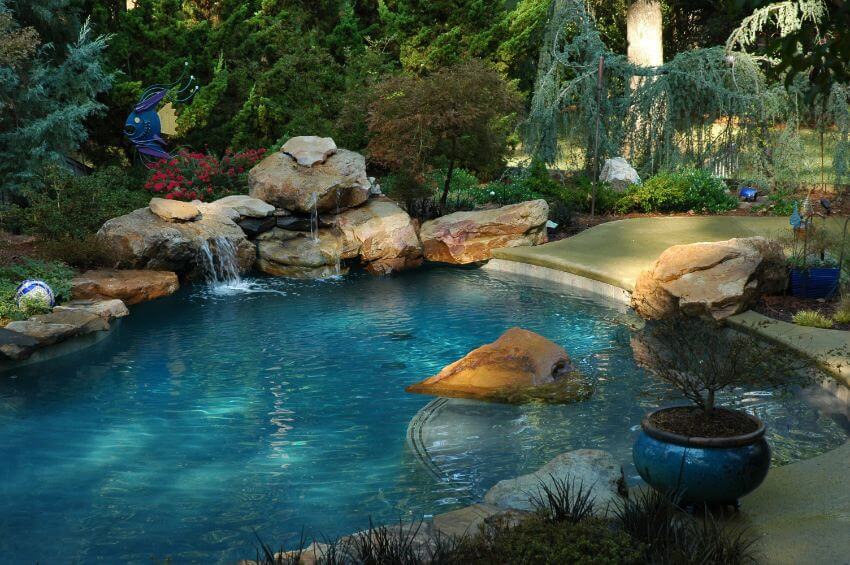 Here is a smaller, different-style waterfall on a pool I built years ago. It trickles off some large boulders at the back of the pool to give it a natural spring sound and feel.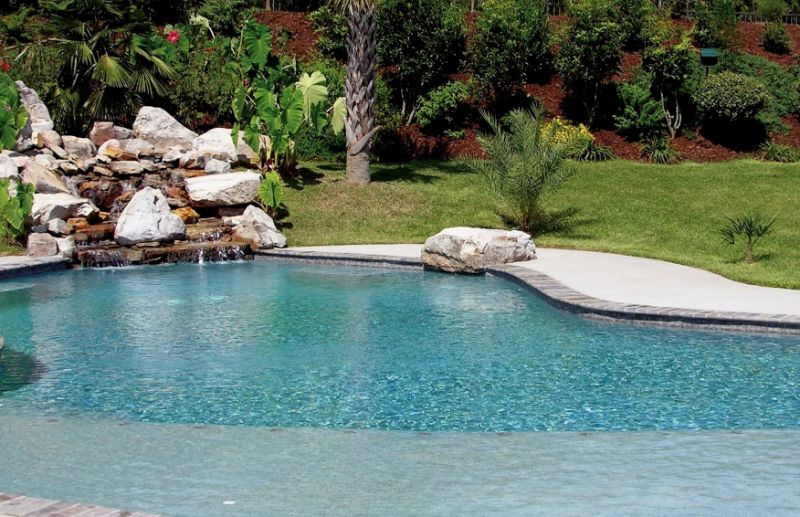 Here is a pool I built for a customer a few years ago. I love the natural look of this waterfall feature, which backs up to a lot of green landscaping.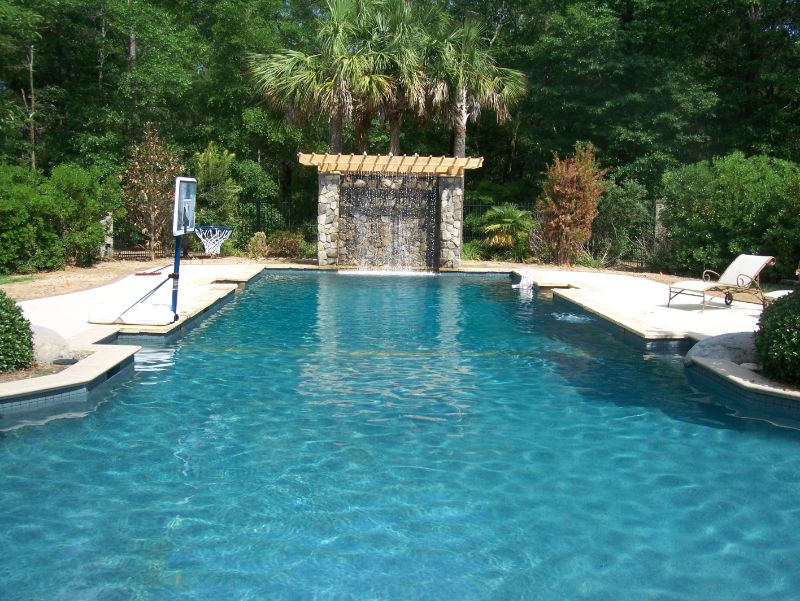 I love this waterfall feature I built that combines a lot of natural stone with a modern aesthetic.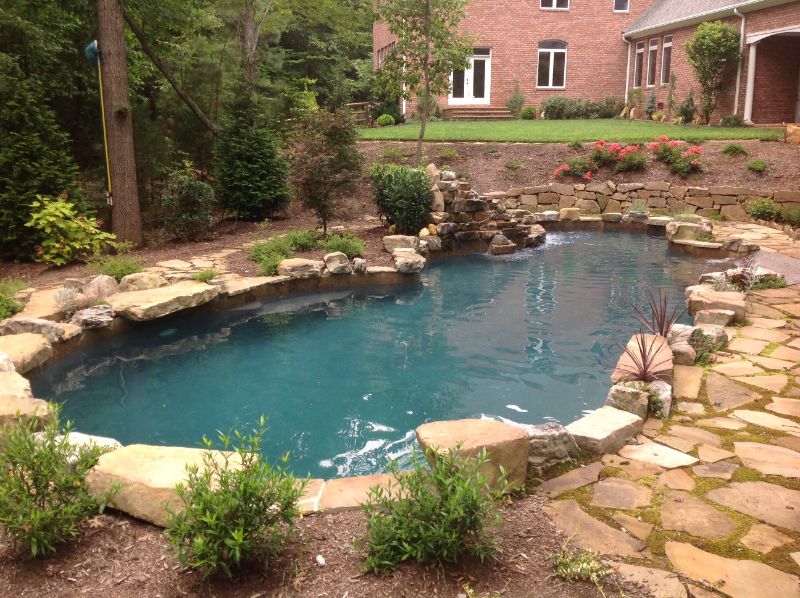 Here's a small natural rock waterfall I built for a customer in their backyard pool.
Here's a side view of a waterfall pool project I did using a lot of large natural boulders. I love how it turned out.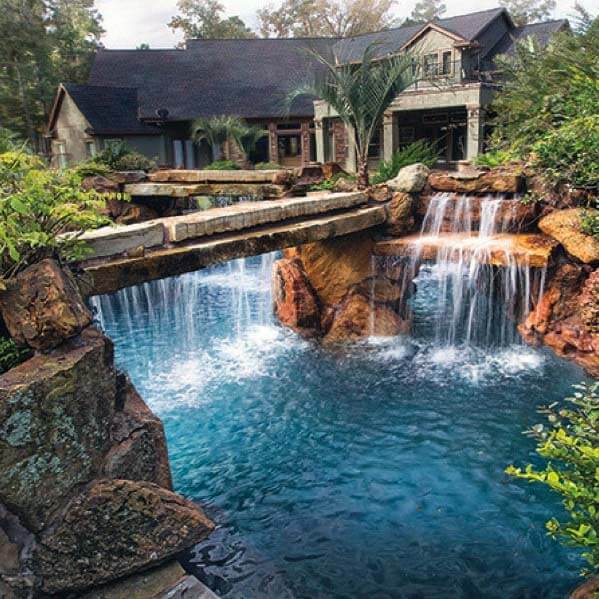 This pool builder took a very elaborate approach to their waterfall, designing it into a footbridge across the pool and a small grotto area under some large boulders. Image courtesy of NextLuxury.com.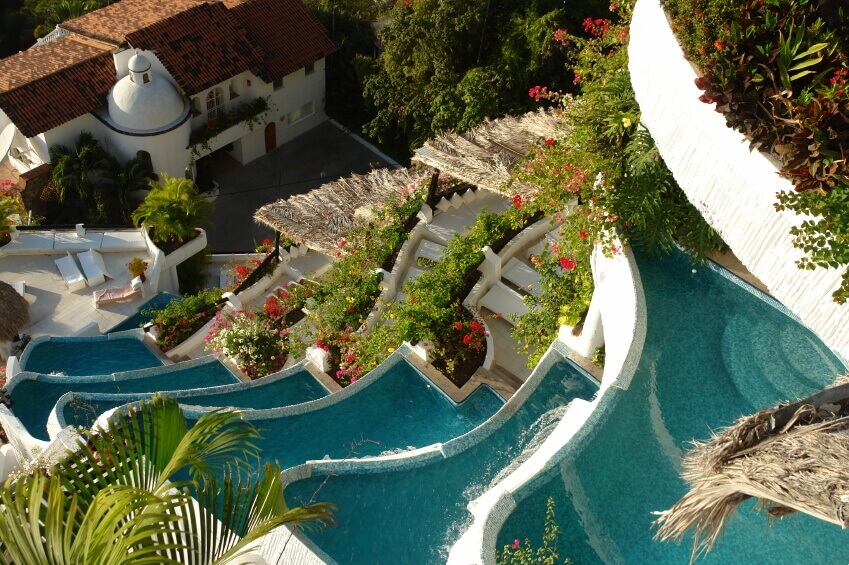 This extravagant Spanish-style home took a tiered approach to its waterfall feature, falling into subsequent pools down to their patio. Thanks to Premier Pools and Spas for the photo.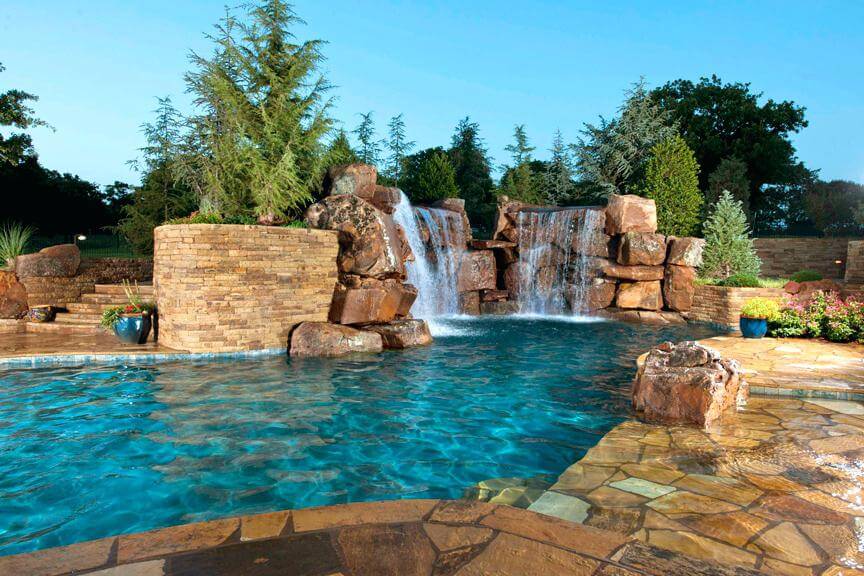 Here is an example of a large rock waterfall with massive boulders holding up the structure. I really like the stairs leading up behind the water feature, which likely ends at a secret lounging area. Image courtesy of thesynergists.org.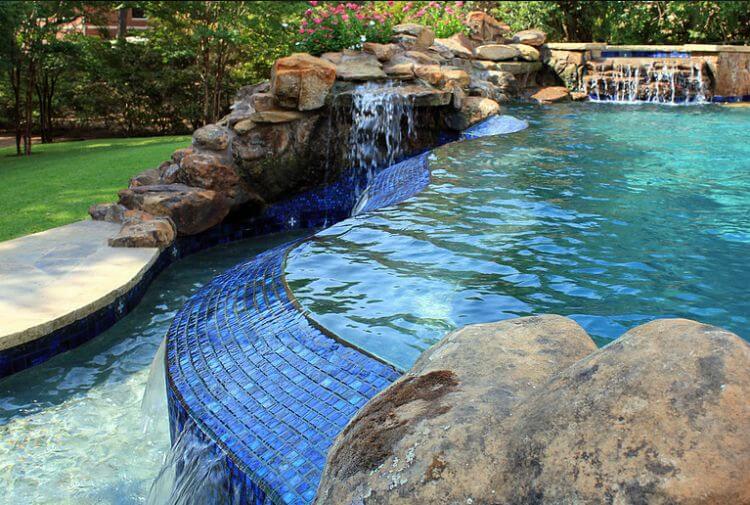 This pool designer combined a waterfall feature with a tiled water wall (also known as an infinity wall). They have two waterfalls – one in the lower pool and one in the upper pool. Image courtesy of 24hplans.com.
A popular combination for large pool designs is a waterfall and slide together. This pool also has a small grotto area underneath the waterfall and extends the waterfall along the entire back wall. Image courtesy of designingidea.com.
Installing a Waterfall In Your Pool
Waterfalls are really tough to "bolt-on" to an existing pool design or do yourself. If you want one, discuss it with your pool builder during the initial design phase of your pool installation. Make sure to discuss with them your preferences on the following:
Materials: Natural stone, polished granite, or something else?
Size: Do you want a massive water feature or simply an accent to your pool?
Location: Should it be a central feature or an "escape" in the corner of your structure?
Need Help Building Your Pool?
I offer design consulting services to help you build your ideal pool. I'll work with your contractor, create build-ready designs and specs, and much more.
Questions? Shoot me a note, and I'll be happy to help.