One major issue many pool owners in the US have to deal with in the colder months is water temperature. Cold weather can bring down your pool water temperature and make it unbearable to swim in, which will inevitably bring your pool season to an end. But fortunately, with the help of technology, you can now heat your pool water, so you can take things into your own hands instead of solely relying on the elements.
In this article, I will go over some popular methods for heating up your pool and discuss the pros and cons of each one. I will also answer some frequently asked questions.
---
Main Takeaways
Gas heaters are the fastest option to heat your pool, but they have high ongoing costs and are not eco-friendly.
Heat pumps cost more initially, but they are more eco-friendly and cheaper to run.
Solar pool covers are a great way to maintain your pool temperature.
Solar domes are an economical and eco-friendly option for smaller pools.
---
Natural Gas or Propane Pool Heater
If you want to heat your pool as quickly as possible, you should look into installing a propane or natural gas heater. A gas pool heater warms the pool water as the water is pumped through the filter. It is not the most energy-efficient method because you will burn natural gas as you heat the pool, but it is the fastest way to heat it. Gas heaters also operate in colder temperatures much better than most other heating methods. So, you can use them to warm your pool water well into the fall.
How Fast It Heats The Pool
The amount of time it will take to heat your pool using a gas heater depends on several factors, including:
Capacity of your swimming pool
Outside air temperature
Size of your heater
Since gas heaters can generate a decent amount of heat in cold temperatures and use natural gas to heat the water, they are the fastest option for pool heating. You can expect a gas heater with the specs to fit your pool to heat your water by about 20 degrees in about 8-12 hours. Small pools or spas can take as little as 2-5 hours to heat the pool.
20 degrees can be a game-changer, meaning you'll be able to utilize your pool throughout the fall season and maybe even at the beginning of winter. But keep in mind these heaters do come at a cost.
Estimated Cost
Why doesn't everyone use them if gas heaters do such an excellent job at heating swimming pools fast? The answer comes down to the cost. Using gas heaters constantly will increase your energy bill exponentially. Depending on your region, natural gas can be one of the more expensive utilities, so running it for hours at a time will lead to a hefty bill.
In the USA, the estimated cost of using a gas heater is $3-$7 per hour, depending on the size of your heater and the cost of natural gas in your state. This may not seem like a lot, but considering it will take up to 12 hours to heat your pool 20 degrees, it may cost you up to $84 to fully heat your pool, just once!
Regarding initial costs, you should expect to pay between $1,500 and $5,000, depending on the heater size required. This type of heater also usually needs to be installed by a professional, which adds to the costs. You can read my analysis on the average pool heater cost for more information.
Pros
Can heat your pool up to 20 degrees in 10-12 hours
Can heat the water at colder temperatures
Simple to use and relatively inexpensive to get installed
They are generally reasonably cheap to install
Cons
Gas can be a more costly energy source, making gas heaters expensive in the long term.
You will not likely be able to install a gas heater DIY due to the complex components. Unlike other heating options, you will have to hire a professional for the installation process.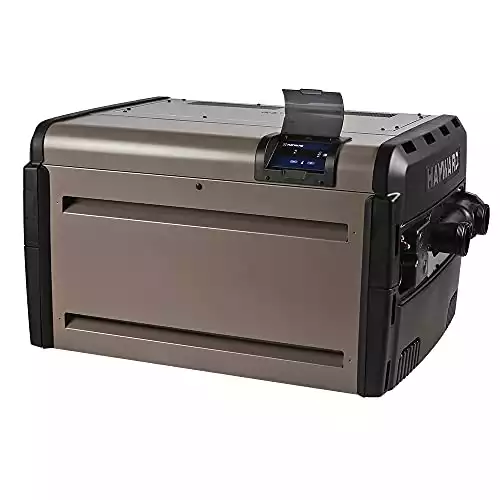 Electric Heat Pump
Electric pool heaters are another popular option for heating your water. Most heat pumps use hot air to warm the cold water that flows through them. This process will eventually warm the pool water. Since electricity is usually much cheaper than gas or propane, heat pumps are a more affordable alternative to gas/propane heaters. That said, they take a bit longer to heat the pool and will not function efficiently at colder temperatures.
How Fast It Heats The Pool
In comparison to gas heaters, electric heat pumps are much slower at heating pools. While you may be able to heat a smaller pool by 20 degrees in about 12 hours, for larger swimming pools, expect at least 24 to 48 hours.
It is worth mentioning that most heat pumps will not function if the outside air temperature is below 50 degrees. The only way to bypass this issue is to purchase a water-sourced pool heater, which draws heat from water rather than the air.
Estimated Cost
Electric heat pumps will cost you less over time than gas heaters due to energy costs, but they are a more expensive initial purchase. A basic heat pump for a smaller pool will set you back up around $2,000, but it can cost up to $8,000 for larger pools.
It is hard to precisely estimate ongoing costs because energy costs vary from region to region, but electric heaters will cost you anywhere from $30-$200 a month to operate, making them much more affordable than gas heaters.
Pros
Is usually more eco-friendly than gas heaters
Cheaper to run in the long term
Will extend your swimming season for over a month
Cons
Costs more for the initial setup
Will not function at temperatures lower than 50 degrees
Much slower at heating water than gas heaters
Solar Pool Cover
Solar pool covers function more like insulators than heaters but can still warm the water slowly. They are essentially a blanket you put over your pool when it is not in use, preventing heat from escaping the water. These covers can extend your pool season and keep the water at a constant temperature.
How Fast It Heats The Pool
Solar pool covers should not be used as pool heaters but more as insulators. They are not the most reliable for warming your pool water because they require lots of sunlight. I recommend using a solar blanket with another heating source to reduce energy costs.
Solar Blankets
Solar blankets can warm your water by 10-15 degrees throughout the day and are very effective (90-95%) at trapping the heat in the water.
Liquid Solar Covers
Liquid solar covers are not very effective at raising the temperature of your pool water, but they are a great affordable way to trap the heat in your water. On sunny days, they can maintain 75 percent of your pool temperature.
Solar Rings
Solar rings are best used during the warmer months to prevent evaporation and heat loss. They are 60-80 percent effective at maintaining your water temperature.
Estimated Cost
The best thing about solar pool covers is that they do not require ongoing costs. Since they use the sun's energy to warm the water, there won't be an energy bill.
Here is a breakdown of the estimated cost for each type of solar cover:
Solar blanket: $200-$400
Solar rings: $150-$300
Liquid solar cover: $20-$30 per bottle
Pros
Low initial cost
Essentially zero ongoing costs; free to run
Eco-friendly
If used with another heating source, you can insulate your pool and prevent heat from escaping the water
Cons
Not a viable option for extending your swimming season
Not suitable for all sizes of pools
Does not actually heat the pool water by much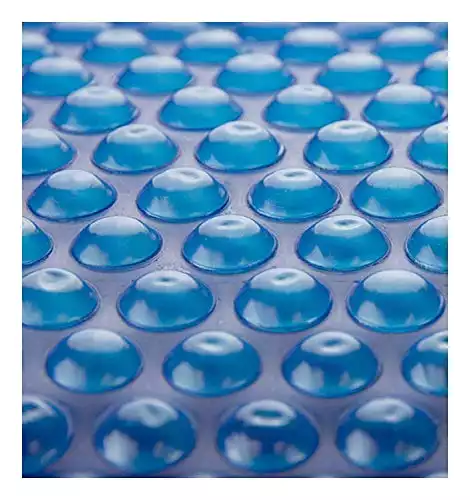 Sun2Solar Solar Cover
Sun2Solar makes great solar pool covers in a variety of sizes for different pools.
View on Amazon
View on Walmart
I may earn a commission if you make a purchase, at zero additional cost to you. This in no way impacts my research process or opinions.
Solar Heater
As evidenced by its name, a solar heater is a type of heater that is powered by the sun. A solar dome, explained below, is a type of solar heater, while a solar heater is a more general term that also includes roof-installed solar panel heaters. These types of heaters can even heat up larger pools, though not to the same extent as gas/propane or electric heaters.
How Fast It Heats The Pool
There are many factors that affect how fast a solar heater can heat a pool, including the size of the pool, the amount of sunlight it gets, and the efficiency of the heater itself. However, on average, a solar pool heater should be able to heat a pool by up to 7 to 14 degrees Fahrenheit within a couple of days.
Estimated Cost
An average solar heater will cost between $1,500 and $5,000, including installation. This wide range in price is due to the size and type of heater you choose. While the upfront cost is quite large, on the bright side, you will have zero ongoing costs!
Pros
No ongoing costs
Environmentally-friendly
Relatively low-maintenance
Cons
Not as effective as other pool heating options
Has a relatively high upfront cost
Solar Dome
Solar domes are energy mechanisms that use energy from the sun to heat water pumped through them. Although they are not very effective on large pools, they are great options for smaller pools and above ground pools. You can check out my recommendations for the best solar pool heaters for some top options, and my guide on how to heat an above ground pool.
How Fast It Heats The Pool
Depending on the size of the solar dome you purchase and the capacity of your pool, it can take anywhere from 1-3 days to heat a swimming pool by 10 degrees. They are pretty slow compared to heat pumps or gas heaters. They are also much more effective if coupled with a solar heater.
Estimated Cost
Solar domes are pretty cheap, mainly because you will not be paying any ongoing costs. Small, simple models designed for above ground pools will set you back $150-$250, while larger solar domes will cost around $250-$350.
Pros
Cheap initial purchase and no ongoing costs
Great affordable option for smaller pools
Cons
Not as effective for larger pools
Much slower at heating pools than other options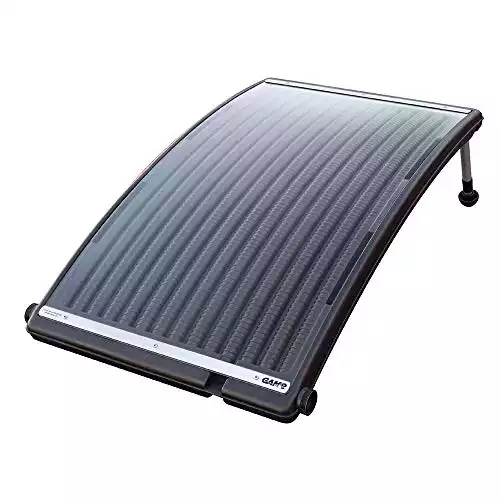 Need to Install a Pool Heater?
I partner with HomeAdvisor to help you find the best swimming pool heater installers in your area. Compare quotes for free from fully vetted pool heater professionals.
Pool Enclosures
A pool enclosure is essentially a glass or polycarbonate structure that fully covers the pool. This allows you to control the temperature of the water and the pool area more, keeps out insects and animals, and prevents evaporation. You shouldn't expect a pool enclosure to replace a pool heater, but it helps prevent heat loss and warm up your pool water and the area around it. When used alongside a standard pool heater, it can lower your energy costs. As an added plus, glass filters UV-B and UV-C, so it helps prevent sunburn on hot summer days.
How Fast It Heats the Pool
Glass pool enclosures create a greenhouse effect, so heat from the sun is trapped inside the enclosure, making the pool area much warmer than outside. As I said, this won't necessarily work miracles, your pool isn't going to warm up from 40 degrees to a comfortable swimming temperature overnight, but this will heat your pool water slowly as the pool enclosure traps heat.
Estimated Cost
Depending on the type of glass/polycarbonate you use, your glass pool enclosure can cost between $30 to $200 per square foot. Add on installation costs, and you can expect a pool enclosure to cost between $10,000 to $50,000+ for a pool enclosure.
Pros
Not only makes your pool water warmer but also warms your entire pool area
Also blocks out dangerous UV rays that cause sunburn and prevents evaporation
Cons
Very expensive and not a feasible option for most pool owners
Depending on your municipality, you may have to obtain a permit
Won't replace a pool heater
The Garden Hose Trick
If you are looking for a cheap and easy way to heat your pool, the "garden hose trick" is your best option. While not foolproof, this is a resourceful way to heat your pool water slightly. This heating method only really works when you need to fill your pool with water. First, purchase the longest BLACK garden hose money can buy. The longer the hose, the better this will work. For the best results, buy multiple black garden hoses and attach them together.
Then leave the garden hose in direct sunlight for a full day. Once the hose has soaked up as much sun as possible, the water inside should be warm, and you can proceed to empty the warmed water into your pool, which will slightly raise the water temperature.
How Fast It Heats the Pool
Listen. Don't expect this trick to extend your pool season or warm your water by more than a few degrees. That said, the "garden hose trick" is an easy and affordable way to warm up your pool water in a pinch. This method will take at least a full day because you will need to wait for the water to sufficiently heat up in your hose.
Estimated Cost
The best part about this trick is that it is CHEAP. All you need is a long black garden hose or two, which you may already have on hand! But don't worry! These are pretty affordable, with a 100-foot black garden hose only costing around $50 to $150!
Pros
Very affordable way to heat up your pool by a small amount
Can be done within a single (sunny) day
Cons
Will only slightly heat your pool by a couple of degrees
Won't work well on a cloudy day
Insulation
You know you need to insulate your home to save on energy costs and keep it cool during the summer and cool during the summer. But did you know you can also insulate your pool? By installing insulation on the walls of your pool, you can reduce energy costs by up to 70%. Pool insulation slows heat loss and keeps your pool water warmer for longer. Adding insulation to an inground pool isn't really feasible, and honestly, the insulation won't do much for a larger pool anyways. But, if you have a reasonably small above ground pool, using insulation as well as a solar pool cover is a great way to preserve your pool temperature.
You can use spray-on or adhesive insulation on the walls of your above ground pool. Make sure to cover all pool walls and use a solar pool cover for the best results.
How Fast It Heats the Pool
Insulating the walls of your pool won't necessarily heat your pool water, though it will maintain the water's temperature. Adding adhesive or spray-on insulation to the border of your pool will keep your pool warmer for longer. So even if the outside air temps are quickly dropping, the water in your above ground pool will stay relatively comfortable.
Estimated Cost
The cost of adding insulation to your pool can range between .25 cents per square foot to $1. This mostly depends on your region, whether you choose to hire a professional, or if and the type of insulation. So, most pool owners can expect to pay between $95 to $370 for insulation for a circular pool with a radius of 24 feet and a depth of 5 feet.
Pros
Is a relatively effective way to prevent heat loss in an above ground pool
Pretty easy to DIY
Cons
Does not HEAT the water; it will only prevent heat from escaping the pool
You will need to employ other methods (a pool heater and a solar pool cover) for the best results
Be Strategic About Pool Location
My final recommendation for how to heat your pool is to PLAN smartly. You won't do yourself any favors by placing your swimming pool in total shade. Even on a hot day, your pool water will be much cooler if it does not get some sunlight throughout the day. The sun is your ultimate free heating resource, so utilize it! In fact, with some direct sunlight, your pool could heat up by nearly 1 degree per hour. I recommend paying attention to the areas of your yard that get a lot of sun before installing your pool and avoiding placing a pool directly under a tree or other areas that are shaded for a good part of the day.
Frequently Asked Questions
What's the fastest way to heat a pool?
The fastest way to heat a pool is by using a gas heater. They may not be the most economical or environmentally-friendly option, but if it is the efficiency you are after, gas heaters are the best option for you.
How fast does a pool heat up naturally?
There isn't an easy straight answer for this. Your pool will naturally heat depending on the outside air temperature and the UV index. On a 90-degree sunny day in July, you will notice your pool heating up to extremely warm temperatures, but it will not warm up as fast on a cloudy day.
Have more questions? Drop me a line. Head over to my article on the best pool heaters for specific options, and make sure to check out my pool heater sizing guide to help you find the right one for your swimming pool.