Chlorine tablets, or "pucks," are a fast and easy way to adjust the level of chlorine in your pool. Here are the best options currently on the market and what you should know about how I picked them. Later, we'll also go over how to add them to your pool effectively and safely.
Chlorine Tablets: My Top Picks
---
In The Swim 3" Pool Chlorine Tablets
⭐ Best Overall
In The Swim sells very effective chlorine tablets, and the bucket comes in various sizes. I like the 50-lb buckets the best, but they also come in 10, 25, and 100-lb (actually two 50-lb) options as well. Each bucket contains individually-wrapped 3-inch tablets that you can use as directed, typically in a floater or automatic chlorine feeder.
Safety Note: Do not drop chlorine tablets directly into your pool unless directed to on the product label. These tablets are not meant for that sort of use.
Each of these tablets contains enough chlorine to help manage 5,000 to 10,000 gallons of pool water, depending on the concentration of water you need. The tablets themselves are 99% pure, with about 90% available chlorine, which is about as high as you can realistically get with products like these.
In The Swim sells other tablet sizes, including 1" chlorine tabs and 3" Super Multi-Tabs, but I think the simple 3" chlorine tabs are the most effective for regular household pools. If you have a small pool of 5,000 gallons or less, consider getting the 1" tabs instead.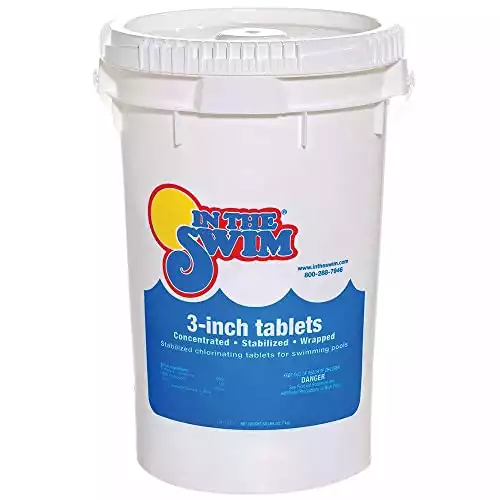 Specs:
Minimum Available Chlorine: 90%
Main Active Ingredient Ratio: 99%
Salt Water Pool Compatible?: Yes
Works With Feeders/Floaters?: Yes
Individually Wrapped?: Yes
UV-Resistant Tabs?: Yes
Pros:
Individual wrappers make these tablets safe and easy to handle
Extremely high overall purity, with a minimal amount of stabilizer
They have a long shelf life
Available in sizes big enough to last a pool for one or more seasons
Help provide a consistent level of chlorine in a pool
Cons:
Heavy buckets can be difficult to store too close to your pool
Tablets are fragile and may become powder if hit too hard during shipping
Individual wrappers can be hard to open
---
Swim Best 3" Swimming Pool Stabilized Chlorine Tablets
⭐ Runner Up
Swim Best's tablets aren't quite as good as the ones from In The Swim, but they're still a high-quality product and worth considering if you can get them at a competitive price. Like my Best Overall pick, this product comes in different sizes, though most stores only focus on the 50-lb buckets. 5-lbs (which I've seen) are a little too small for most people.
On average, each of these tablets lasts a week to a week and a half, with more required for larger pools. That's true of any chlorine additives, of course, but it's worth keeping in mind when selecting a floater or chemical dispenser system to use in your pool.
While I like most of this product, a few things stand out as negatives. First, not all of the tablets are sealed particularly well. This means you can get a lot of chlorine dust inside the bucket when you open it, and that's not too healthy to breathe. Be careful when storing this anywhere that chlorine vapors could harm things.
This isn't usually enough to cause chlorine poisoning, but as a pool owner, study up on that anyway so you can recognize its signs.
Second, these tablets don't last quite as long as those from competitors. The actual duration varies based on many factors, including the flow of water through your system and the presence of any other chemicals that could hasten their dissolving, but in general, these won't last quite as long.
Still, I don't want to sound like I'm too harsh. These tablets aren't perfect, but they're still better than almost every other option on the market. Just make sure you get a better container to seal them in.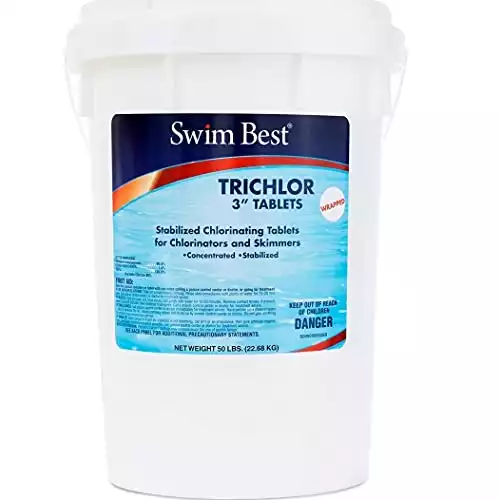 Swim Best Swimming Pool Chlorine Tablets
In The Swim can run out of stock sometimes, so Swim Best is a good backup option for trichlor tablets.
View on Amazon
I may earn a commission if you make a purchase, at zero additional cost to you. This in no way impacts my research process or opinions.
Specs:
Minimum Available Chlorine: 90%
Main Active Ingredient Ratio:6%
Salt Water Pool Compatible?: Yes
Works With Feeders/Floaters?: Yes
Individually Wrapped?: Yes
UV-Resistant Tabs?: Unlisted
Pros:
Widely available and reasonably affordable compared to alternatives
Very high purity tablets
Uses Trichloroisocyanurate, which is a great type of chlorine for pools
Well-stabilized and last a long time when stored properly
Cons:
Chlorine vapors from the container can damage storage areas
The packets aren't quite sealed properly
Some tablets are prone to breaking during shipping
---
In the Swim Cal-Hypo Non-Stabilized Pool Chlorine Granules
⭐ Best Chlorine Granules
I have something I have to admit: These aren't proper tablets like the other two products on this list. Instead, chlorine granules are fast-dissolving alternatives to granules that you can add to your pool for rapid results when tablets aren't quite fast enough.
The reason I decided to add this product to the list is that tablets alone aren't always enough to get your pool where it needs to be. The steady release of chlorine is great for maintaining a pool, but when you're first opening it for the season, you need something faster. That's where this formula comes into play.
The non-stabilized formula works quickly to clean and sanitize pools, including for both shocking and regular use. It doesn't contain any cyanuric acid, though you may need to pre-dissolve it in water if you have a vinyl pool.
Personally, I recommend purchasing this in a smaller size and adding it as needed. Be sure to store it properly, too. Since it's not as stable as tablets, errors in storage could cause significantly more problems. The 25-lb bucket is good enough for most buyers, but In The Swim sells it in batches of up to 1200 lbs at a time.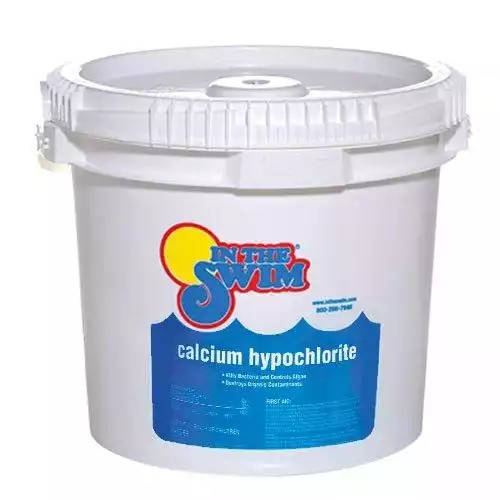 Specs:
Minimum Available Chlorine: 68%
Salt Water Pool Compatible: Yes
Works With Feeders/Floaters: No
Works With Skimmers/Direct Application: Yes
Individually Wrapped?: No
Pros:
Easy to add to a pool for shock treatments
Ideal for both residential and commercial use
Available in varying amounts to suit any need
Highly effective at removing contaminants
Cons:
More expensive for long-term use than tablets
Usually requires signatures for delivery, limiting options
Not stabilized
---
Recap: The Best Chlorine Tablets for Your Pool
---
My Research Criteria
Here are the factors that went into my research and why the tablets I chose rose to the top. I'll also dive into some of the benefits of adding these tablets to your pool and how to add them safely and effectively.
Quality & Purity
Quality is a straightforward measure of purity and the type of chlorine used. Chlorine tablets are interesting because there isn't much variety in them. 98%-99% pure chemicals are almost unnoticeably different from each other when it comes to pools. Higher purity is generally better, but 100% pure chlorine is impossible to sell and ship in tablet form.
Stabilized vs. Unstabilized Chlorine
Depending on what type of pool you have or when you are adding chlorine, you'll want to choose either unstabilized or stabilized chlorine. So, I made sure to include options for both types here. For more information on the key differences, read my full article on unstabilized chlorine vs. stabilized chlorine.
Effectiveness & Ability to Spread
Chlorine tablets are effective because you know exactly how much you're putting in your pool. The good tablets dissolve quickly too, so I tested each one to make sure they spread across your pool easily.
Price
Most chlorine tablets really don't differ all that much in terms of quality. Therefore, price should be a big component of your search and was an important factor for me as well. I eliminated several brands that were simply just too expensive for the simple product you're getting.
Benefits Of Adding Chlorine Tablets
There are several major benefits to adding chlorine tablets to your pool. These include:
Good For Maintenance: High-quality chlorine tablets are good for maintaining the chlorine levels in a pool, which act as a sanitizer for your pool water. This is very different from shocking a pool or adjusting it from a very low or high starting point.
Low Effort: Tablets require less active use and maintenance when compared to other ways of managing chlorine. Most tablets last at least a week, and replacing them takes seconds. Some people prefer tablets that last at least two weeks, but either way, these help minimize the effort needed to maintain your pool.
High Effectiveness: Chlorine tablets are generally effective for destroying germs, preventing algae growth, and generally keeping pool areas cleaner. People use them in both residential and commercial areas because they work.
How To Add Chlorine Tablets To Your Pool
Here are the best ways to add chlorine tablets to your home pool. You can use the chlorine calculator I built to figure out how much to add.
Floating Chlorine Dispensers: Floating dispensers, as the name implies, float around a pool to deposit the chlorine. They're largely passive and move with the currents. However, these can dispense too much chlorine in one location if they get stuck, so make sure to get a dispenser that's guaranteed to keep moving.
Automatic Chlorinator: This is generally the best method. Automatic chlorinators let you set a specific rate of dispensing based on the needs of your pool, and it's easy to refill it with new tablets.
Direct Sprinkling: This only works with granules, but you can sprinkle chlorine directly into your pool. This is more localized than other methods, though, so make sure to walk around your pool and ensure you sprinkle some into different areas.
Pool Skimmer: Some pool skimmers support chlorine tablets. These ensure a consistent flow of water over the tablets. However, the tablets will dissolve regardless of whether or not the filter is running, which can create highly corrosive water and damage equipment.
Always follow the instructions on any chlorine tablet products you buy. These products are safe when used as directed, but failure to follow the manufacturer's instructions could result in serious harm or permanent damage to your pool.
And make sure to test your pool water chemistry with a test kit before you go adding a bunch of pool chemicals! Check out my favorite test kits for recommendations.
As an Amazon Associate, I earn from qualifying purchases. Participation in these programs helps me keep the lights on at PoolResearch.com and in no way impacts my research process or editorial opinions.